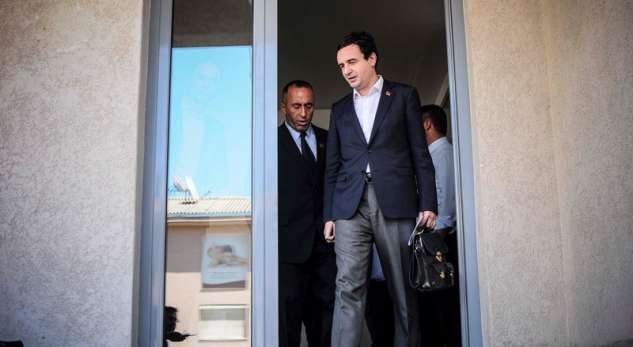 Pristina, July 14, 2014/Independent Balkan News Agency
By Elton Tota
The four leaders of the opposition parties in Kosovo, Isa Mustafa, Ramush Haradinaj, Albin Kurti and Fatmir Limaj have met today to finalize the agreement for the new government of the country.
The meeting has ended without an agreement, because the post election coalition consisting on LDK-AAK-Incentive have not reached an agreement with Self Determination as far as the talks with Serbia are concerned and the process of privatization.
Following this meeting, the leader of Self Determination, Albin Kurti declared that there's discordance between what has been discussed in previous meetings and the readiness to put them on paper.
"The discordance consist on the issue of talks and privatizations. We have previously agreed on these issues, but we could not materialize them on paper", said Kurti.
He added that without a full agreement, Self Determination will back the coalition.
"There will be another meeting, but this is the situation for now. I believe that the cause for the current situation relates to the discordance between declarations and verbal agreements in the previous meetings and on the other hand, written agreements", Kurti says.
Kurti said that he will not vote the speaker of parliament chosen by the coalition unless there's an agreement between these political parties.
IBNA news agency learns that the opposition block is encountering difficulties in the division of ministerial posts.
The introduction of Self Determination in the government formula is causing discontent to the party of Isa Mustafa, which in the initial agreement between LDK-AAK-Incentive, it was promised 9 ministerial posts, the post of the speaker of parliament and the post of the president in two years.
The introduction of Self Determination almost halves the number of ministries promised to LDK and this seems to be the point where discussions have come to a gridlock.
LDK is not happy with the redistribution of ministerial posts and according to it, if it accepts the agreement, it will have a lot to lose.
LDK, as a party which has three times more votes than AAK, is not happy with a small number of ministries  and  without the post of prime minister which has been left to Ramush Haradinaj, who has only received 9% of the votes.
Another meeting is expected to be held today between the four leaders to talk about the new situation. /ibna/