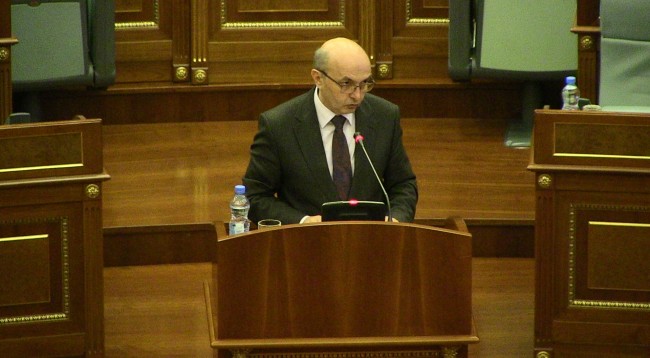 Pristina, 29 July 2015/Independent Balkan News Agency
By Elton Tota
At the start of his term in office, Kosovo's Prime Minister, Isa Mustafa had unveiled a dynamic agenda for the development of Kosovo.
The prime minister had promised economic development, reduction of poverty and the opening of new jobs, fight against illegal migrations, fight against organized crime and corruption, etc.
But besides development priorities, Mustafa has also made commitments in the international aspect.
Continuation of talks with Belgrade, the implementation of agreements and the setting up of the Special Tribunal on war crimes, have been some of the commitments made by the government and new institutions in front of the international community.
Representatives of the opposition and analysts say that the government led by Mustafa, has failed in the implementation of the priorities unveiled at the start of the term in office.
Leader of the Alliance for the Future of Kosovo, Ramush Haradinaj, says that Mustafa's government has completely failed.
"The two coalition parties have a big problem. Since the moment when they have assumed their responsibilities, Kosovo has made no steps forward", Haradinaj said.
Haradinaj says that the elections are the only solution about the situation where Kosovo finds itself.
The same opinion is also shared by the leader of Self Determination, Visar Ymeri.
"There must be fresh elections, because this government is causing great damages to the country, in the political point of view, to the economy and also to other domains. The country cannot continue with an economic logic which is only impoverishing the country", he declared.
Meanwhile, analyst Vilhard Shala says that Kosovo's government has not given any hope for economic development, rule of law and so on.
"PM Mustafa has not delivered any of his promises. With his arrival in power, around 100 thousand people have abandoned the country, poverty has risen and relations with neighboring countries and international community have worsened", Shala says.
"Mustafa is unable to find the formula for the creation of the Special Tribunal, the creation of the Army of Kosovo, the speeding up of the liberalization of visas, rule of law and many other issues which the citizens and international partners have demanded", he added. /ibna/