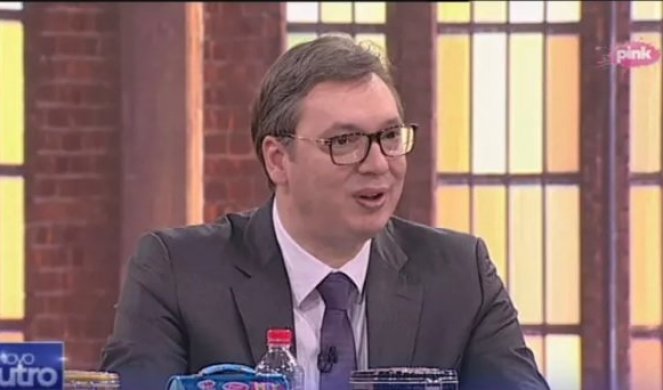 Predsednik Srbije ponovio je svoje optužbe na račun opozicije. Lideri opozicije su, rekao je Aleksandar Vučić, lopovi, i imaju podršku iz Zagreba, Sarajeva i Prištine. Svoju tekuću kampanju "Budućnost Srbije" Vučić je uporedio sa manifestacijama koje organizuje predsednik Rusije Vladimir Putin.
"Za narod i za građane sam uvek otvoren. A za ove lopove ne", rekao je Vučić za televiziju Pink, komentarišući proteste koji se protiv njega održavaju širom Srbije.
Upitan zašto vođe opozicije nisu u zatvoru, ako su lopovi, predsednik je odgovorio da je to "teško pitanje". "Zato što su celokupan pravosudni sistem oni postavili", rekao je Vučić čija je Srpska napredna stranka na vlasti već sedam godina.
On je optužio opoziciju da "svoju zemlju optužuje za sve" i da "u stranim medijima govori sve najgore" o Srbiji. Na komentar lidera Narodne stranke Vuka Jeremića, da je Vučić gori od Miloševića samo ne raspolaže istom vojnom snagom, inače bi "sad bilo još gore", Vučić je tvrdio da je Vojska Srbije sada "dvostruko veća" nego devedesetih godina prošlog veka.
"Ja iz Srbije nikada neću otići, a nadam se ni moja deca", rekao je Vučić.
On je rekao i da ga navodno "plaši nervoza koju pokazuju" lideri opozicije, sugerišući da bi oni mogli da pribegnu nasilju.
Najveća podrška protestima "stiže iz medija Zagreba, Sarajeva i Prištine", rekao je predsednik Srbije dodajući da bi građani Srbije "trebalo da razmisle o tome".
"Šta mislite zašto se Zagreb raduje propasti Aleksandra Vučića? Zašto sam im ja problem? Smeta im to što je Srbija snažnija. Ja sam iz Sarajeva čuo primedbe na to što se Srbija naoružava. Hoćete vi da nam zabranite?", rekao je Vučić.
Novinar lista Blic Ranko Pivljanin rekao je za televiziju N1, govoreći o kampanji predsednika Aleksandra Vučića "Budućnost Srbije", da se radi o klasičnoj predizbornoj kampanji.
On je tu kampanju nazvao "Budućnost Vučića".
Vučić je pak kampanju uporedio sa sličnim događajima koje organizuje Vladimir Putin.