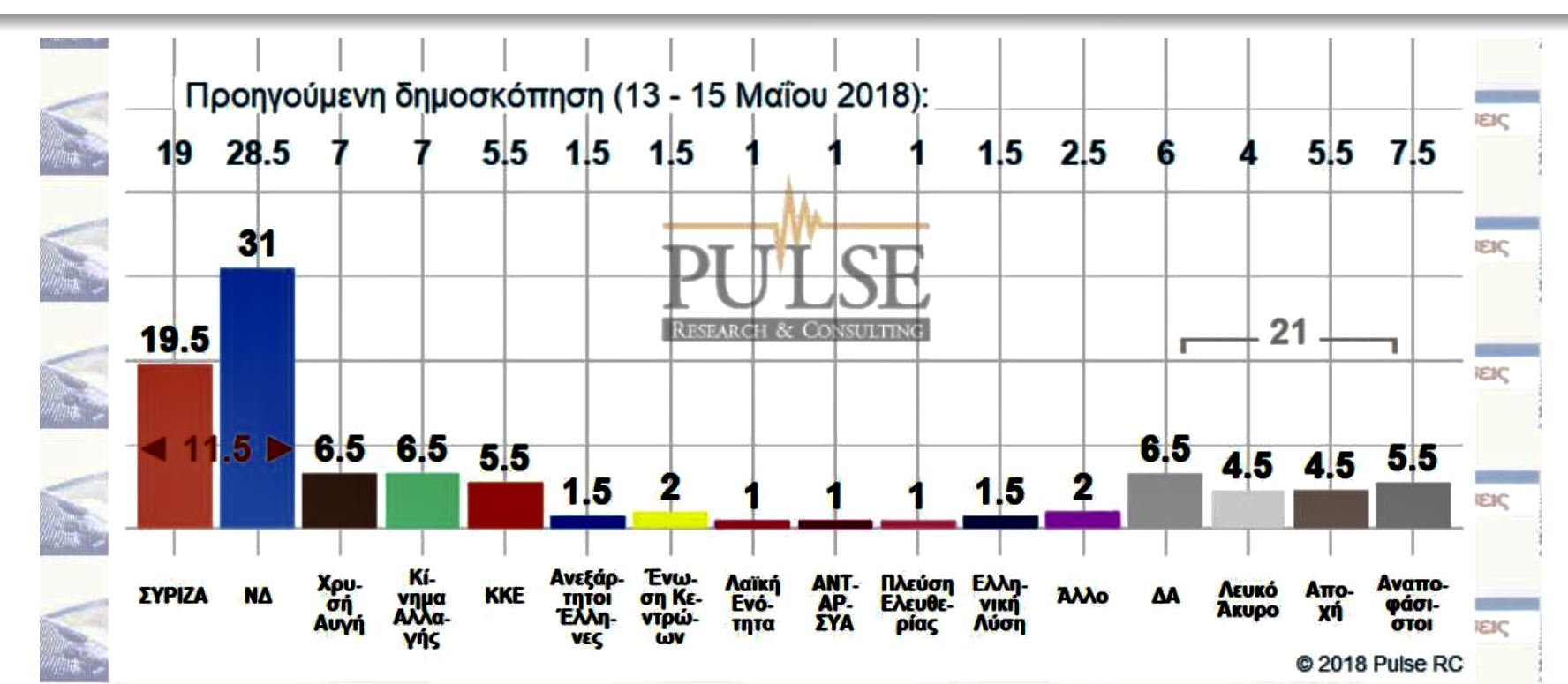 Main opposition New Democracy maintained its double digit lead over ruling SYRIZA, an opinion poll by Pulse for SKAI television showed on Thursday.
Specifically, the center-left party came in at 34% over left-wing SYRIZA's 21.5%. Neo-Nazi Golden Dawn tied with the newly established center-left Movement for Change on 7.5%, followed by the Communist Party on 6%. SYRIZA's ruling coalition partner Independent Greeks (ANEL) fell below the 3% threshold for entry to parliament, garnering 1.5% of preference, while the Union of Centrist stood at 2.5%.
Compared to the previous poll conducted in May 2018, SYRIZA's ratings were unchanged when deducting for valid votes, while New Democracy gained 2 percentage points. Asked which party they believed would win the next election, 58% of respondents opted for the main opposition party, with 23% saying SYRIZA would win another term.
New Democracy leader Kyriacos Mitsotakis also maintained a double-digit lead over Prime Minister Alexis Tsipras in terms of who is considered more suitable for office. Mitsotakis was chosen by 33% of respondents, Tsipras by 23% and 37% said "neither".
The Pulse survey – conducted 24-26 June – is the first since a Eurogroup decision to grant Greece debt relief, which the government said was a "historic moment" which will turn around the country's economic fortunes. Nevertheless, 63% of Greeks appear to believe the country is not moving in the right direction, with just 28% appearing positive. It is worth noting that the portion of the public that has a positive outlook has remained more or less the same in size since March 2018.
Specifically on the debt relief measures, 49% saw them as "negative" and 37% had a "positive" view of the Eurogroup decision.
Pulse also asked respondents their opinion about the recent name-change deal struck between Greece and FYROM, noting that 62% had a negative view of it. Among SYRIZA voters, 51% had a more or less positive opinion of the agreement, with 40% viewing it in a negative light. Conversely, the vast majority of New Democracy supporters (86%) took a negative stance towards the deal.
In this context, the majority of Greeks appear to believe the next election will take place either in the first half of 2019 (25%) or the second half of next year (26%), with 38% expecting an early vote to be called before the end of 2018./IBNA