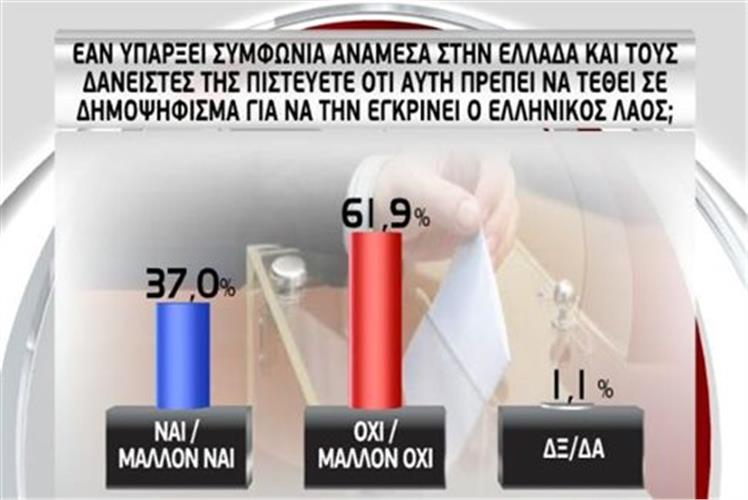 Athens, April 30, 2015/ Independent Balkan News Agency
By Spiros Sideris
Agreement with the partners and not a rupture would like the vast majority of citizens, about eight out of ten, according to the poll of GPO for the greek television network MEGA.
Six out of ten citizens are against a referendum that would ratify the agreement with lenders, if it is reached, while seven out of ten citizens say 'no' to election if negotiations reach an impasse.
Decreased compared to last February, is recorded acceptance by citizens of the strategy followed by Alexis Tsipras and the government in the negotiation with the partners, since 58.3% of the respondents or rather agree with it, from the 90.3% in February 10.
The Greek citizens appear divided on whether they believe that there is a risk for Greece to exit the Eurozone, while 75.6% of the respondents believe that the country should stay in the eurozone at all cost.
In voting intentions, Syriza almost maintains the rate received in the January elections, or 36.5%, while the main opposition party New Democracy is at 22%.
Third party is The River (6.5%), in fourth place KKE and the Golden Dawn with 5.5%. Below are the ANEL 5%, PASOK with 4% and the Centre Union with 1.8%.
Regarding party leaders, the highest popularity, with 63.9% positive judgments, records Alexis Tsipras, followed by Panos Kammenos with 41%, Stavros Theodorakis with 39%, Dimitris Koutsoubas with 32.5%, Antonis Samaras with 28.1% and Evangelos Venizelos with 20.1%.
Citizens appear divided on their evaluation of the government's work in the areas of health and safety, while the negative assessments far outweigh the positives in terms of assessing the government's work in Education.
Only two in ten appear to agree with the law that enables Savas Xiros to continue serving his sentence at his home.
In contrast, almost nine out of ten citizens express agreement with the government's decision for the police to evacuate the Rectory of the University of Athens from the squatters, with 73.8% of them however, feeling that the decision was taken late.
Only three out of ten citizens agree with the immigration policies of the government.
The nationwide survey by GPO for MEGA was conducted on a representative sample of 1,000 people in the period from Monday, April 27 to noon Wednesday.