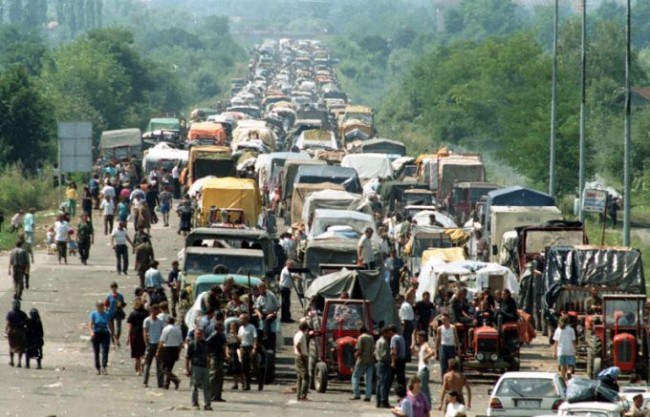 Belgrade, August 4, 2015/ Independent Balkan News Agency
By Milos Mitrovic
Serbia and Croatia mark 20 anniversary of the Croatian military operation "Storm"; Zagreb celebrates with military parade today and central state manifestation in Knin tomorrow. Serbia commemorates 1,853 Serbs killed and 200.000 expelled in "Storm", 1995 action which Croatia hails as reintegration of its territory after local Serbs have taken control over the large swats of former Yugoslav republic in 1991.
Former internationally unrecognized Republic of Srpska Krajina with center in Knin lasted from 1991 to 1995. "Storm" operation has annihilated strong and centuries lasting presence of Serbs in what is now Croatia. However, International Criminal Tribunal for the Former Yugoslavia (ICTY) has acquitted Croatian generals which were suspected for the war crimes in "Storm" and Tribunal has not found that  operation have been aimed at ethnic persecution.
In February 2015, the International Court of Justice (ICJ) dismissed a Serbian lawsuit claiming that Operation Storm constituted genocide, ruling that Croatia did not have the specific intent to exterminate the country's Serb minority, though it reaffirmed that serious crimes against Serb civilians had taken place.
In July, the governments of Serbia and Republic of Srpska (RS) have declared August 5 a day of mourning. Later today Prime Minister of Serbia Aleksandar Vucic and RS President Milorad Dodik will lead central state manifestation on the bridge in Sremska Raca, symbol of the Serb refugees calvary.
"This is our way to show the world how we suffer, to say what we think – that "Storm" was crime and pogrom", Labor Minister Aleksandar Vulin, who is in charge for the commemoration, told Tanjug news agency. Good relations between neighboring Serbia and Croatia cannot be possible without truth "which is always good and healing", Vulin said. However, Serbia will not jeopardize its relations with Croatia because of what has happened 20 years ago, he added.
Nikolic: To forgive and not to forget
"To forgive does not mean to forget but, through history, we were prone to easily give up from the victims and almost forget them in the name of some interests", Serbian President Tomislav Nikolic said today. In Fruska Gora mountain, at the opening ceremony of the new church dedicated to "Storm" victims, Nikolic said that the homes of Serbs in Croatia have been turned into flame by those "insane".
"They celebrate your calvary and suffering as their victory and as the day when they have restored their state inherited by Pavelic and was recognized only by Hitler", President said. He alluded to Nazi puppet "Independent State of Croatia" which has existed from 1941 to 1945, and was led by Ante Pavelic.