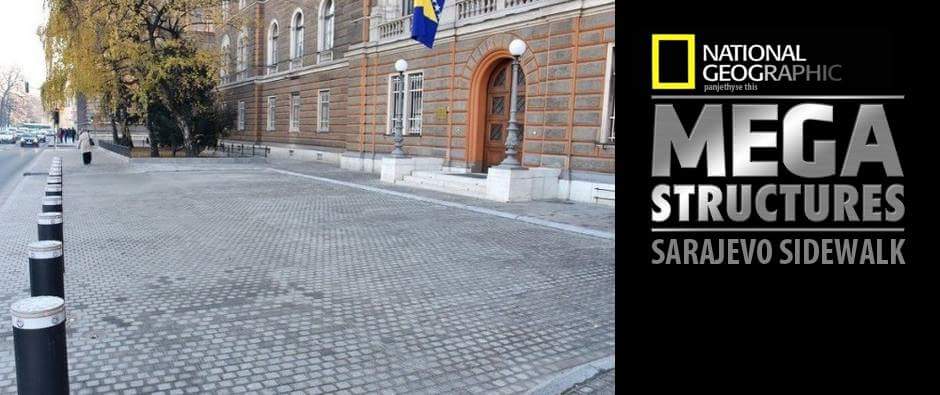 "Opening ceremony" of sidewalk triggered the sparks among citizens in BiH and social networks reactions show that they can be united, if there is common reason.
But, since in BiH everything is possible, the sidewalk opening was in fact a true story. That part of Marsala Tita street in the Sarajevo downtown is, in fact the part in front of the BiH Presidency building. Reconstruction begun three months ago and finished on Tuesday. In the event announcements for Wednesday, institutions announced that few officials will visit the reconstruction site. The announcement was greeted with ironical comments on social networks. Facebook and Twitter were swamped with jokes and rather bitter black humor comments. Citizens mostly said that they cannot believe that somebody will "open" the sidewalk. At the same time, this part of the street became the paradigm of the situation in whole country.
On one side, BiH is the country with one of the most difficult economic situations in the region, unemployment rate is among the highest in Europe, the average salary is about 420 Euros and most of the citizens are dreaming of a job in the European Union. On the other side, governments spend a lot of money on the expensive cars for politicians, roads which finish on the river banks and a lot more investments which citizens consider as "bad decisions". Among them, one of the highest places take the Sarajevo sidewalk, 340 000 BAM (170 000 Euro) worth. Deputy of BiH Presidency Secretary General, Dzenan Selimbegovic, Sarajevo municipality Centar, Nedzad Ajnadzic and few other officials came on the spot and faced a crowd of Sarajevo citizens who were not enthusiastic about the event. They stated that the reconstruction of sidewalk was necessary in order to enable citizens in wheelchairs to pass this part of the street but some of these persons, said on the spot to the media that there was never a problems with the accessibility of wheelchairs here.
In order to show what the think about "reconstructed sidewalk" citizens made several performances as the man who was laying in the sidewalk with the empty pot and spoon, saying that it is more important to have this beautiful sidewalk than food. Other people find their ways to show that Wednesday's "opening ceremony" was a stupid event.
It became so big that politicians condemned those who appointed the event. BiH Presidency Chairman, Mladen Ivanic, said that it was not necessary and apologized to citizens.
The latest news is that the reconstructed sidewalk in the evening was turned into a dance floor./IBNA