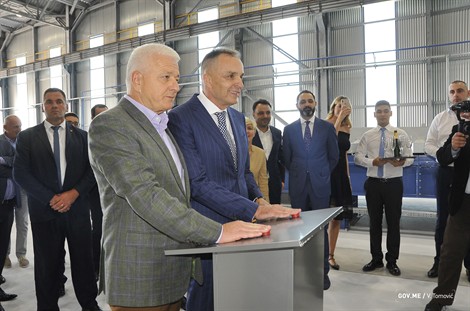 Montenegro Prime Minister Duško Marković and owner of Uniprom KAP Veselin Pejović put into operation a new silumin factory, noting that every new product in Montenegro is a step forward to new jobs, and each new job is strength and quality on the path to European quality of life of the citizens, the Montenegro Government said in the press release.
"When we were visiting the entire complex in late March, we saw that a new modern industrial centre is practically developing here. Unfortunately, we had to keep in mind that the rise of the new Aluminium Plant (KAP) was followed by, I would say, a hysterical wish for this project to fail. But, the new factory that will make products that can go directly to the halls of the automobile or avian giants, defies the sceptics and opponents of modern development. Every new product in Montenegro is a step towards new jobs, and each new job is strength and quality is on the path to the European quality of life of our citizens," the PM underlined.
Marković said that this investment and everything that has been done so far, including new development programmes, deserves respect and unquestionable institutional support.
"But for me, it is equally important and worthy of respect the resistance of Mr Pejović and his team to destruction, propaganda and defamation in order to withstand the rise of the KAP with domestic brains, energy and determination. That is why the Government's determination and plans to quickly develop our economy need more of these examples," said Marković at the opening of the new silumin factory.
The project of the new factory for the production of aluminium alloys in the form of small ingots is worth more than EUR 10 million and involves the opening of dozens of new jobs.
Marković said that Montenegro should be encouraged by the fact that, after decades of lagging, the country changed the direction of the industry and took a step forward with industrial production to the extent of the economy's needs.
"The modern way from natural resource to finalised product is long and it is not rational to cultivate ambition that it can be rounded up in national frameworks. Even much more powerful economy than ours cannot do it. But it is the duty of all of us to, at least in certain areas, such as the aluminium industry, to do as much as we can on our own. From today on, with a new factory within the Uniprom KAP, we can take a step further," Prime Minister Duško Marković concluded./ibna