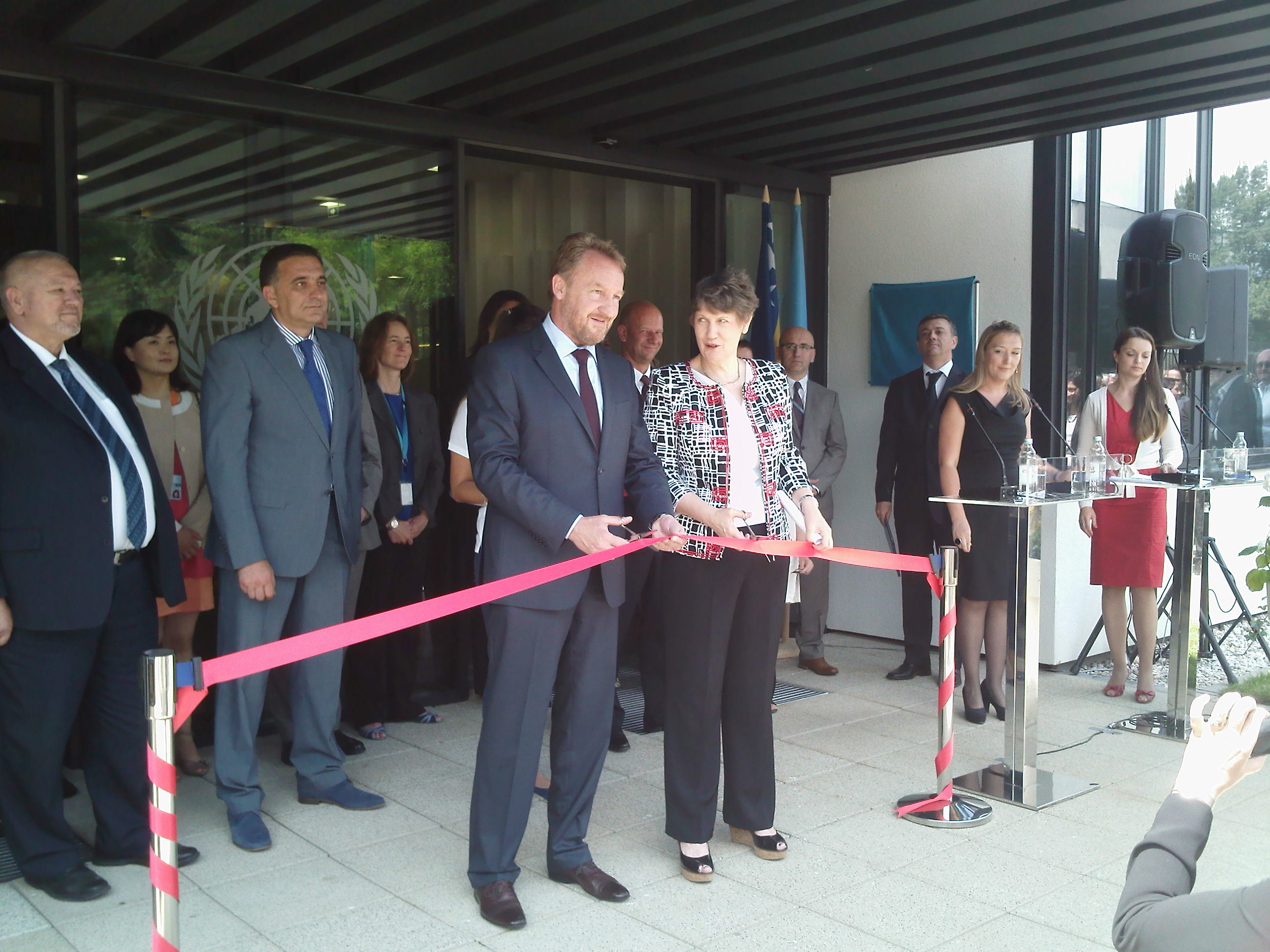 By Medina Malagić – Sarajevo
With the ceremonial ribbon cutting, the UNDP Administrator and the Chair of the UN Development Group Helen Clark and member of the BiH Presidency Bakir Izetbegović opened the new UN building today in Sarajevo.
A number of international officials in BiH, and representatives of the public and political life in BiH attended today's ceremony.
The new UN building in Sarajevo is one of the best buildings of this organization in the world, said Helen Clark.
"Our idea is to show through this symbolic act that we want to work together, to support the development and progress of BiH'', said Helen Clark.
According to her, the opening of a new UN building in Sarajevo symbolically represents the strengthening of cooperation of the BIH government and the UN.
''We try to support local and state partners in resolving the priorities that are based on development, including promoting local and rural development, a commitment for energy efficiency and environmental protection, and durable solutions for sustainable solutions for refugees and displaced peoples'', said the UNDP Administrator and the Chairman of the UN Development Group.
Member of the BiH Presidency Bakir Izetbegović, who recalled that the presence of the UN in BiH has lasted for more than two decades, addressed guests.
"Through various agencies and programs of the UN, they have significantly helped BiH and our citizens, and have contributed to the development of civil society in the post-war period'', said Bakir Izetbegović.
He said that BiH is thankful for their engagement, which continues to last.
"UNDP is specifically recognized and accepted in our country. With its various activities and projects, it helps us to employ people, to strengthen the system of responsible governance and to respect human rights, energy efficient system, as well as to more quickly include people in the public, political and economic life of the country'', said Izetbegović.
At the end of his address, Izetbegović expressed satisfaction that BiH today has the opportunity to host Helen Clark, and the UN personnel to BiH wished her success in her future work.
After the official ceremony, in the UN building in Sarajevo there was the signing of a Declaration for resolving the issue of permanently displaced people in BiH.
The Administrator for the UN Development Program (UNDP) and the Chair of the UN Development Group will be in BiH until 7 July. As part of the visit, Helen Clark will meet with a number of BiH officials.