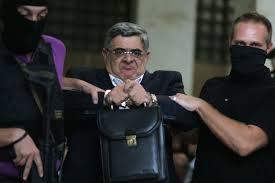 By Spiros Sideris – Athens
In the hands of the prosecutor of Appeals, Isidoros Dogiakou, is being forwarded the case file on the Golden Dawn as the special appellate investigating judges who handled the case declared the completion of the months-long investigation.
The investigating judges Ioanna Klapa and Maria Dimitropoulou completed their investigation and declared the end of the investigating process on the illegal action of the Golden Dawn, sending the case file to the prosecutor judge who is overseeing the investigation, in order to make his proposal to the competent judicial council on the referral or not on trial before the three-member Appeals Felony Court the total of 78 defendants.
The final say for the further judiciary treatment of those involved in the case will have the Judicial Council, whose members will have to make the final decision within two months from the moment they receive the proposal of the prosecution.
Immediately after that the course of the trial will be determined, which is expected to start shortly before or immediately after the end of the year, even while it remains unclear where will the trial be conducted, as it is estimated that it will require a special place because of the large number of defendants, lawyers, witnesses, protected witnesses, and other needs, such as the viewing of dozens of photographs and videos that are included in the case file.
The investigation of the case of the Golden Dawn began immediately after the cold-blooded murder of Pavlos Fyssas, last September, from the remanded Giorgos Roupakias, who has confessed his act.
On the occasion of the murder of the young musician, the then Minister of Citizen Protection, Nikos Dendias sent to the Prosecutor of the Supreme Court 33 cases involving members of the Golden Dawn in criminal activities.
By order of the Prosecutor of the Supreme Court, Erini Koutzamani, a preliminary examination was conducted by the Deputy Prosecutor of the Supreme Court Charalambos Vourliotis, with the completion of which there waa a prosecution for establishing, being members and participating in a criminal organization, followed by the subsequent arrests of the party's parliamentarians and its general secretary, Nikos Michaloliakos.
Of the 78 defendants in the case 30 have been remanded, with the assent of investigators and prosecutors and the 18 Golden Dawn MPs are accused of belonging and directing a criminal organization.