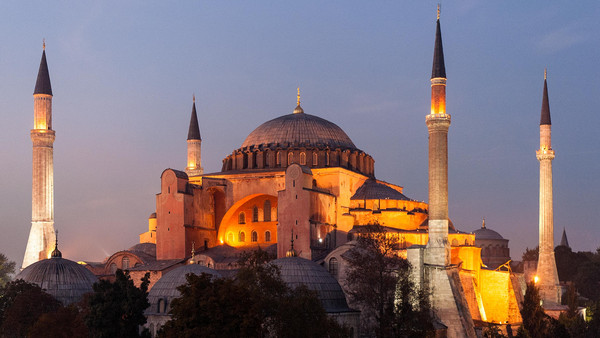 Athens, July 10, 2016/ Independent Balkan News Agency
By Spiros Sideris
Ramadan passed and not a word of what was written about the conversion of Hagia Sophia into a mosque was confirmed.
It remains imperious in its place, with its doors open to welcome Christians, Muslims and believers of every other faith who want to admire this iconic building which characterizes two empire, the Byzantine and the Ottoman.
Much has been written and said by competent and non-competent people, by nationalists and internationalists, from politicians to diplomats. Everyone from his own standpoint tried to argue in support of his respective view.
The truth is – and this is truly fitting – that the two Foreign Ministries, those of Greece and Turkey, didn't flag the issue and avoided any conflict in order to not make a bilateral issue of a matter that would hinder the effort to bring the two countries closer.
There were announcements, which is logical since Foreign Ministries make policy but there was no sign of fierce conflict like in the past. The deputy Foreign Minister in charge of European Affairs made a statement that was criticized by a large part of the Greek media. Nikos Xydakis said specifically: "There is nothing tragic, no disrespect to read a religious text … Lack of respect would be if there was any indecency…"
Circles of the Patriarchate, on their part, did not make any reference to the reading of the Koran in Hagia Sophia during the Ramadan. As a senior cleric told IBNA, Hagia Sophia is and will remain Hagia Sophia.
It is a fact that cultural, religious and other monuments, with border changes that occurred at the start of the 20th changes, were targeted by extremist groups or by sheer ignorance of their importance.
Churches were destroyed or changed use, and something similar happened to the mosques in Christian areas. One such example is Alcazar in Thessaloniki where the Hamza Bey Mosque was turned into a cinema where for a long time erotic movies were screened.
Respectively churches were turned into stables; out of ignorance or expediency, it is difficult for one to know after so many years. But respect is necessary for those monuments which characterize the cultural heritage and history of a place.
Hagia Sophia is there to show us the living history away from human pettiness.