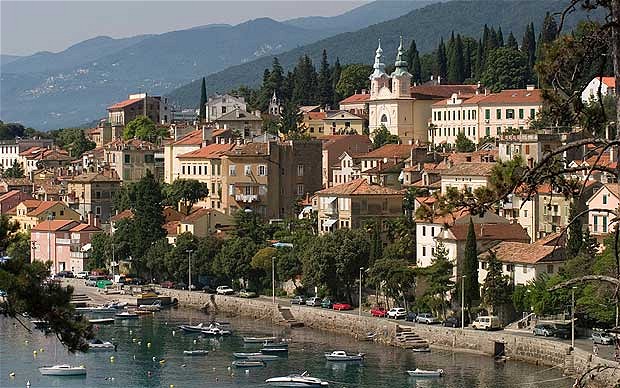 By Marija Avramovic – Zagreb
The three-day event 'Golden Opatija', is the central celebration of the 170th anniversary of tourism in this city, but also in Croatia, opened on Saturday night in Opatija with the musical – theatrical spectacle 'Emperor City'.
Through a variety of programs across the entire city of Opatija, the number of guests will be reminded of the beginnings of tourism in this town, and on Saturday all the famous tourist sites in the city center, from the Summer Stage to Slatina, were is the stage for the historical scene with music, acting and dancing, and a chance for everyone to "stroll into the past".
The area from Summer stage to Slatina turned into a scenery for stories about the beginnings of tourism, the period of Austro-Hungarian rule and famous guests of Opatija. At several locations along the walkways were performed music and ballet acts and completion of the program was on the beach Slatina where the arrival of Emperor Franz Joseph was staged with operatic arias and spectacular fireworks. Lavishly dressed ladies and gentlemen walked the streets, old-fashioned coaches passed through Opatija, the waltz was danced.
On Sunday, the event continues with a program called RetrOpatija, which will bring back the spirit of the sixties and seventies of the last century and the golden age of evergreens, the most successful period in tourism of "Queen of the Adriatic", according to many.
The third part of the Golden Opatija program 'All to the disco!' is on Monday, July 21th which will bring back Opatija to another of its brilliant period, the time of the greatest popularity of discotheques. One of the most important groups of that period, Kool and the Gang, will perform as part of the program on the beach Slatina.
Celebration of the anniversary activated the youngest citizens of Opatija by creating slogans which would show how proud they are for living in a city with such a long and rich tradition in tourism.
"Opatija Riviera is true paradise, this year celebrates its 170th birthday!" is best slogan to mark the 170th year of tourism in Opatija and was constructed by the pupils of the primary school Opatija Anamaria Renner and Nina Zunic.
In Opatija there are currently around 7,500 tourists and everyone hopes that this three-day celebration of this very important jubilee should attract an even larger number of foreign tourists.