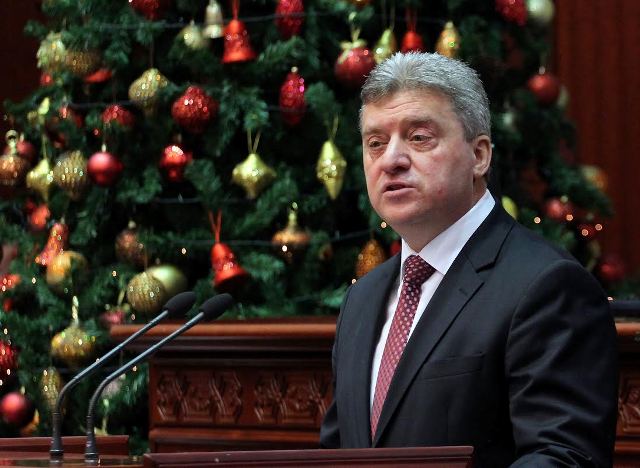 By George Ivanov
We are about to leave behind us a year of great challenges, both in global and national terms. We see global interests clashing and military strategists outwitting each other in conflict areas in the Middle East, North Africa and Ukraine. These areas have become a source of numerous threats and risks. And this not only for the world, but also for Macedonia.
Symbolically, this year began and finished with terrorist attacks in Paris. Paris, the city of light, was not chosen by chance. Today, when Europe is still divided with physical and mental barriers, the European culture of hospitality towards migrants is put to the test.
Global disorder is inevitably affecting us as well. In such a complex geopolitical and security situation, this year we have been facing serious crises and threats that undermined the trust of our citizens in the state institutions and global system.
The first one being the political crisis, the second a security threat, and the third – the migrant and refugee crisis.
As President of the Republic of Macedonia, but also as Supreme Commander of the Armed Forces, this year, I had an active year in exceptionally difficult conditions at the foreign policy level. Here, I refer to the internal, regional and global conditions. I focused on the realization of our strategic priorities – NATO membership and integration in the European Union. I was dedicated to strengthening cooperation and closing open issues with our neighbors. I continued the policy of openness to all in terms of foreign relations, especially in function of economic and cultural diplomacy.
And I will continue in the same direction. I was fully committed to the issues in the area of security and defense. In everything I did, I safeguarded the interests and dignity of the country and its citizens. And this was indeed more than necessary, since the dignity of the country was put into question.
In the past six years we have had three political crises, every one of them more serious and deeper than the previous. We have been persisting in conditions of political crisis for so long and so frequently, that some even noticed that crisis has become a part of our daily lives.
What is all of this due to?
Last year, at this very place, I said that the key word in 2015 should be dialogue. However, there was no dialogue. The political air became so polluted with suspicions and mutual accusations that it started suffocating Macedonian society.
Because of the lack of political responsibility we had the so-called Przino Agreement. We had an agreement among political leaders to whom the Constitution was not enough a base to meet, sit down and talk. Instead of within the state institutions, they went to meet in other places and in other formats. I will refrain from further comment and I will say only the following: the decision on Przino was theirs, and so it will be their responsibility. Those who have assumed the obligations, will have to deliver.
As President, I was called upon by the public, the media and the citizens. There were writings and discussions saying I was absent and not active.
Citizens should know, however, that the resolution of every one of the political crises in the past six years happened upon my initiative. As President of the Republic of Macedonia, in 2011 and in 2012 I convened the leaders of the political parties in my Cabinet in order to find a solution.
For this last crisis I continuously stated that the doors of my Cabinet are open for leader meetings. However, some political leaders did not want to come to the President of the Republic. Unfortunately, I see they left their seats in the home of democracy empty today, and they bear part of the responsibility for the situation that our country finds itself in today.
Citizens should know that, in the interest of dialogue among leaders, I did not always publicly disclose my efforts to resolve the crisis. I wanted to leave them enough time and space in order to reach a solution themselves. My aim was not to boost my personal rating, but to find a solution to this crisis. As thus far, I have never been one to take the credits or ask for recognition for something that I consider to be my duty. And as President and Supreme Commander, it is my duty to safeguard the state interest. This because I firmly believe that instead of authority and power, the state should be above all. And the state is us, the citizens of the Republic of Macedonia.
The irresponsible behavior of political parties has had an unfavorable impact on the process of European integration as well.
The European Commission postponed for a long time the Progress Report, since there was a danger for us to postpone our future ourselves. And it could have been easily postponed by irresponsible behavior. This is still possible.
Instead of a progress report, we received a stagnation report. After seven years, instead of a date for membership, we received a conditional recommendation. Of course, the main reason why Macedonia is being blocked is the Greek veto. This cannot be opposed by anyone. But, since we know this is a fact, then why creating a new, internal problem in addition to the existing one? The imposed name issue is no longer the only obstacle to our integration – there is also the problem that we have with ourselves. Unfortunately, this time again, we left the resolution of this problem in the hands of others.
The European Union report is objective. One sentence even points to the root of most crises that we have been facing, namely: "the breakdown of political dialogue and difficulties in arriving at consensus on issues highlighted once again the divisive political culture in the country." Correct me if I am wrong, but a divisive political culture is just an elegant name for lack of political culture.
This should be a lesson on how political parties should not act. Citizens vested their trust because they expect progress, and not backsliding of already established values.
We may comfort ourselves by stating that stagnation is a consequence of blockades. And this would be true. I repeatedly urged the European Union to change its attitude towards Macedonia. I take every opportunity to point to the spiral of blockades to our interlocutors. That every blockade creates conditions for new blockades.
I do not wish to be misunderstood. I appreciate the role of international mediators included in the efforts to overcome this serious political crisis. But, at the same time, we ask of that same international community to eliminate the main reason behind the creation of these last political crises – and this is namely the status quo in the integration of the Republic of Macedonia.
Therefore, we need a new approach, a twofold one. We need to change our approach towards the Union, our European priorities and reform processes. In the past seven years, we have had similar remarks in the European Commission Progress Report. We should unconditionally focus on reforms and stop waiting for someone else to finish our work. When I say "we", I refer to the government and the opposition, to the judiciary, education and all other spheres. However, the Union and NATO should also change their approach towards us. They should not procrastinate and find excuses for new blockades. The degree of certainty and achievability of Macedonian European integration will decisively move our society towards achieving higher values. Towards a stronger and more substantial democratic development.
And as the lack of political dialogue led to a political crisis, the political crisis opened the door to security threats.
We are facing continuous global challenges in the form of direct threats against our national security. These threats come from different sources;
Violent extremism and radicalism;
Foreign terrorist fighters;
Regional extremist groups whose aim is to rewrite borders in order to realize their great nationalist ideas;
The so-called Islamic Caliphate;
Transnational organized crime;
At the same time, we see that the security environment has changed. Greece is no longer a firewall for Europe. The borders of the European Union and NATO have become porous. We are facing a new type of aggressor. An individual born and educated in Western democracies. Wearing civilian clothes. Produced in the incubators of regional conflicts and crises. Inspired and motivated for violent acts against humanity. Thirsty for ferocity, blood and publicity. His aim is to instill fear. This is what happened in Paris, but also previously in Beirut, Bamako, Mumbai…
The citizens of these cities are aware of such threats that are slowly transforming into our reality. Therefore, we need to be aware of the threats and adapt to the new reality.
Apart from this new aggressor, old-fashioned, ethnically motivated violent extremism has not yet been rooted out in our region.
On May 9, peaceful living in Kumanovo was endangered by violent extremists and terrorists who came to destroy peace, co-existence, democracy and order in Macedonia. They wanted to undermine territorial integrity and destabilize the state.
For a long time, I have been warning about this danger. At the very beginning of this year, we asked 17 partner services from the EU, NATO and countries from the region for assistance. Unfortunately, the exchange of information in order to prevent the intentions of this group did not deliver. We were left on our own.
But even alone, we managed to cope with this serious threat in a courageous and professional manner.
It is true that in the fight against threats, the most successful actions are preventive actions that citizens will not even learn they happened. However, the citizens should know that with the Kumanovo action, we prevented the realization of coordinated terrorist attacks in several cities in Macedonia. We prevented massacres and bloodshed of the sort that we recently witnessed in Paris.
Therefore, I wish to once again express my gratitude to the members of the police for their sacrifice. But I would also like to thank our fellow citizens from multiethnic Kumanovo, who opposed imported extremism. Because, in the same way that the police defended security, the citizens of Kumanovo defended the Macedonian model of coexistence and respect for diversity. Is there a bigger investment in building our homeland, the Republic of Macedonia?
The trauma from Kumanovo is still fresh. The country lost eight brave members of the police. Families lost their sons, brothers, husbands, fathers… Back then I said that the perpetrators and everyone involved in this terrorist act will pay a high price for what they tried to do to the Republic of Macedonia and its citizens. Today, they have been brought to justice. The judiciary should now finish its work with dignity and professionalism.
The Kumanovo case is a classic example on how countries and services should not act in their efforts to achieve regional security. It appears that as a region, we cooperate in all areas, but least in the area of security. Due to insufficient information exchange, lack of cooperation and communication, but also absence of trust among states and services, the prevention system failed. Kumanovo was a lesson to the region, but also to us. In the peak of the political crisis and media cacophony, protests and counter-protests, Kumanovo was a reality check for political parties. Only a day after the Kumanovo events, I convoked the Security Council and I invited representatives of the opposition to participate in the session. With this, in the zenith of the security threat, the political crisis started to unravel.
And while political parties were still clashing, migrants and refugees started to transit Macedonia.
Let me remind you that before the conflict in Syria, we used to be upset by the number of 1000 to 2000 illegal migrants per year passing through our country. In the first few years of the Syrian conflict we were worried because of the tens of thousands refugees per year. Since the beginning of the crisis, we have been relying on our own resources and minimal bilateral donations.
We are thankful for the foreign financial aid that was completely earmarked for the humanitarian aspect of the refugee crisis. On the other hand, all costs for the security aspect of the migrant and refugee crisis are well beyond the mark of 12 million Euros.The first omission of the Union is the non-functional mechanism for distribution of refugees in Member States via the so-called quotas.
In the same way as the security threat, the migrant and refugee crisis reminded us that we have been left on our own. That we should help ourselves, because otherwise, no one will do it.
As President and Supreme Commander, I have been following closely the security in our country. I visited our southern border several times. I met with the police, the Army, humanitarian organizations and migrants.
Macedonia's proactive response in handling the migrant crisis was noted in both the EU and NATO. Our commitments delivered visible results.
I insisted on the deployment of FRONTEX and greater cooperation with our southern neighbor. I spoke about these demands with Greek Prime Minister Tsipras on two occasions. My commitments have delivered results. Recently, Greece addressed a formal request to FRONTEX on the deployment of its forces at the Greek – Macedonian border. Their task will be to perform verification and registration of migrants wishing to enter the Republic of Macedonia. Mr. Tsipras promised a more intensified cooperation and communication between Greek and Macedonian security services.
Macedonia is facing threats and risks for its national security which are a consequence of regional crises and conflicts.
However, national security is part of wider, international security, which is today considered as indivisible. The blockade of our NATO membership is inevitably having an impact on the efficiency of our defense and security system.
Facing new threats, as well as the refugee crisis, have imposed a need for an intensified communication and cooperation among services, same as an improved efficiency in performing tasks by institutions having legal competences in the area of defense and security.
From the political crisis, we should learn that when political party and personal interest is above state interest, then we will all pay the price. That, when we do not decide alone, then others decide for us.
We have both strategic and national priorities – membership in the EU and NATO. But the main priority for 2016 is to have a functional state that maintains public order and peace, takes care of the defense and security and creates conditions for rule of law. Functional state is a guarantee for freedom, democracy and economic progress.
State interest must be a priority to each and every single one of us. Political parties, institutions, civil society and media.
This historic decision was backed not only by political parties, but by the entire Macedonian society, regardless of ethnic, religious or any other affiliation.
I call upon you, after the elections, on the 25th anniversary of our independence, to achieve unity regarding the key strategic goals of the country.
After the elections, let us unanimously renew the pledge and dedication to European and Euro-Atlantic integration. Let us unanimously renew the declarations for membership in the European Union and NATO.
Therefore, now is not the time to accuse, but to unite. It is not the time for political clashes, but for responsible behavior. Let us build a culture of political dialogue through which we will build unity for state interests. All of us, Macedonians, Albanians, Turks, Serbs, Roma, Vlachs, Bosniaks, Christians, Muslims, Jews and atheists…Only in this way will we be able to break the vicious circle of crises and stop repeating the same mistakes once and for all. A society based on two values: peace, as care for the wellbeing and dignity of citizens, and truth, as a precondition to justice. I believe that if we are responsible, united and ready, we will be able to face anything that the uncertain future might bring.
*End of the year address in front of Parliament
**The opinion of the author doesn't necessarily represent IBNA's editorial line