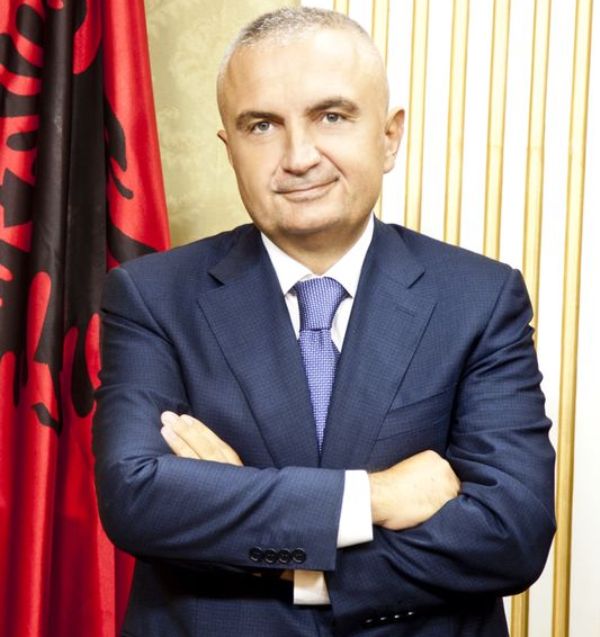 By Ilir Meta
We have arrived in Skopje to offer a clear message of our sincere friendship and reconfirm that Albania, as a neighboring country and NATO member, fully supports Macedonia in its Euro-Atlantic path, convinced that our joint future is in the European Union and with Macedonia a member of NATO.
In the name of this meaningful future and not forgetting the bitter past of our region, which we hope that we have left behind, Albania and Macedonia will take their friendship and ties to a higher level.
Based on good neighboring relations, we must work in order to increase mutual trust, which is the key of an honest and sustainable cooperation. We are convinced that we have learned from the bitter experiences of the history of our region and that we belong to a generation that knows how to view things in a European way.
In this context, relations between our two parliaments, as a synthesis which materialize the representation of our two nations, have a special weight.
Driven by the good will, we're here today to offer a new momentum to these relations. More direct, more realistic and more ambitious, because we're convinced that this path, path of understanding and positive cooperation, is the expression of the will of the people that we represent. Our people want peace, cooperation and well-being.
Significant progress in the past 14 years
The ties between our nations are old, while ties between our states have strengthened more and more in the past two decades.
A significant progress has been made in the past 14 years. Today, we're better than we were yesterday.
But, by judging realistically, we're far from our expectations, because the path that the Europeanization that our countries and societies require, standards of cohabitation and harmony, are objectives that must still be attained and not finalized realities, and even less perfect ones.
I say this from the position of an optimistic politician for our joint European future and with the awareness that we're not just neighbors and we don't want to be just neighbors, but above all, brothers that live in a joint economic and social space.
On the other hand, Albania and the Albanian people are interested on naturally supporting stability, sovereignty, integrity and also economic and social development of the Republic of Macedonia.
In our geo-political view, we share the same vision and the same conviction with our allies that Macedonia, its stability and sovereignty, are a vital necessity to preserve peace and at the service of progress for the entire region. And for this, we have been and are ready to offer our unconditional support.
But, at the same time, we believe that we must invest more in building sustainable bridges of cooperation and concrete beneficial relations.
The traces of a common history
Our people are known in the Balkan as masters of the projection and construction of Stone Bridges, which have been on their feet for centuries. Our political classes must follow with more passion and modesty these gifts of our joint history.
Because the philosophy of the bridges that unite, coasts and people, where communication, exchanges and cooperation are secured, is the most prevailing philosophy of United Europe, which last century survived to two world wars.
Wars, which based on today EU standards, seem absurd and meaningless.
The Ohrid Agreement must be entirely implemented
The model of cooperation, lifting of borders, standards of democracy, smart solutions based on mutual interest of all disputes.
This model shows that where there is a will, there's a way of overcoming every conflict. Therefore I want to express my deep conviction on the necessity of fully implementing the Ohrid Agreement. This Agreement and its full implementation strengthens us and brings us all closer to each other. Closer to each other, but also closer to the European Union.
The Ohrid Agreement and its implementation is a proof of our European aspiration. A proof of peace and cross ethnic harmony, over national selfishness, which have historically been witnessed, through folkloric rhetoric, which is not at all a smart thing to do in fulfilling the interests of our nations.
All the citizens of Macedonia, regardless of their ethnicity, would benefit much more from an accelerated advancement of the full implementation of this agreement that you have signed 14 years ago.
This would lead to concrete and tangible results for all. First of all, for the stability of Macedonia, but also to avoid extremist speculations, wherever they may come from.
Judging by the progress made so far, we encourage a more proportional budgetary allocation and a larger participation of Albanians as a state consolidating factor in the social, administrative and political life of Macedonia. Inequality in investments and development which is seen in several western regions of the country, needs to be reduced until a new and more harmonious reality comes to life.
We don't believe on border changes
We don't believe on border changes in the Balkan, but we believe on completely removing them, like the European Union has done and where we all want to go and the model that we want to apply here in the region.
Today, there must be development of smart and pragmatic policies, adding corridors that link us and by shortening distances that keep us afar, with the scope of creating a significant engine of economic growth and well-being.
Competition of markets not between states but regions
In our planet, competition of markets is taking place not between states but between regions. Albania is aware of the weight that it has in the region. The sustainable and healthy strategy of our regional policy is closely linked to our approach of improving the well-being of our citizens.
We distance ourselves from the archaic nationalist alternatives and we fully support concrete solutions that boost employment and improve well-being, fight poverty for everyone regardless of their ethnic group.
This is why I'm confident that we're ahead of an important historical moment, where many gaps must be overcome, where we must talk about joint projects of mutual interest concerning energy, industry, our beautiful environment, agro-processing, education, transport, tourism and health.
*Editorial from the Albanian parliamentary speaker in the framework of his official visit in the former Yugoslav Republic of Macedonia
** The opinion of the author doesn't necessarily represent IBNA's editorial line