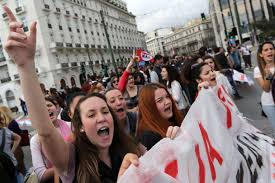 Athens, February 4, 2016/Independent Balkan News Agency
By Spiros Sideris
Besides social security, the evaluation of the programme and the mobilisation of farmers – oh how strange once again on the same period, no matter which government is in power, they make demonstrations for their "fair" demands – the other major topic of discussions is the center-left and what will happen to the parties and the leftovers of the once mighty PASOK.
The election of Mitsotakis in the presidency of New Democracy has sparked the trench warfare over who is more centrist, who has the exclusive rights to use the term and who will benefit from the millions of centrists looking for a party to represent them, to follow it and take over the power.
In Greece of the crisis, poverty and unemployment, they still fight over labels and ideologies. As if being rightist, leftist or centrist alone can provide solutions.
There are voters who believe that, although they tend to become the minority and thus enable a political turn towards realism. The country needs understanding and consensus on key priorities that will make the public and the private sector productive, effective and reciprocating to society.
For political parties to look for a foothold on power by clamoring for an ecumenical government, coalition government, government of technocrats etc. (only a government transfer from abroad has not been requested) does not solve the issue of the deep incisions Greece needs to get out of the crisis. A crisis that is primarily internal and concerns the DNA of the political elite, with the economic following as a result.
The creative shock that would bring a turnaround in the situation in Greece is necessary to take place through sincere dialogue, without obsessions, witticisms and populism, with the common and not the corporatist good in mind.
Let some "become sacrifice" on the altar of Greece and let them take the initiative to make reality the change that this country is looking for, in order to produce, to create and to take off without tweaked budgets and accounting tricks.
Indeed, the Left knows all too well about sacrifices.