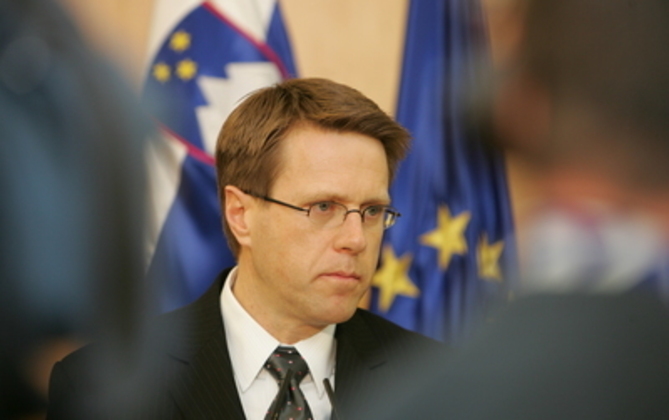 By Samuel Zbogar
Head of the EU Office in Kosovo and EU Special Representative
Ever since I arrived in Kosovo two years ago I keep hearing about the last general elections in 2010. People would tell me how bad they were and how inter and intra party theft was organised on a large scale. I was not in Kosovo back then, but somehow I tend to believe them since numerous accounts of locals and internationals are alike. The 2010 experience was one of the main reasons we have been asking for electoral reform.
The reform hasn't happened as there was always some other major priority stepping in. But then, in November and December last year, municipal elections were organised and conducted across Kosovo in a fair manner, free from major irregularities. EU observers assessed them as "a step forward for democracy in Kosovo". If there is a will, there is obviously a way. If there is a political will for good elections, Kosovo is able to have good, European-standard elections.
The coming elections are not just any elections: they are the first elections after significant rapprochement between the EU and Kosovo. When a future contractual partner that has just finalised SAA negotiations is conducting the elections, it is normal that high standards are expected. We are going to watch closely, very closely. And for Kosovo this time much more is at stake than in 2010. Citizens are well aware of that – and their participation can be the best proof of that.
That's the reason we answered Kosovo President's request and deployed a European Union Election Observation Mission. They have already arrived, almost 100 of them. They are deployed all over Kosovo, carefully observing, assessing – and will be visiting polling stations on Election Day. When chief observer MEP Roberto Gualtieri will present their first assessment, it will be our guidance, too: relevant not only for our views on elections, but for much more – for Kosovo's EU future!
My message to all responsible party leaders, candidates and polling centre officials is: Don't put a roadblock on your way to Europe! Let's rather keep removing roadblocks from the past on your way forward!
The observers' assessment is important. But what counts even more is the assessment of Kosovo citizens about the process – and its outcome! Not only Kosovo-EU relations grow, but Kosovo citizens also expect better elections every time and will not settle for less.
These general elections are the first ones following Brussels agreement. I hope Serbs across Kosovo will exercise their right to vote and choose their representatives. Serbs as well as other communities can best protect their interests with the tools provided by Constitution, Brussels Agreement, laws and integration within the institutions. I believe the time of fear, rejection and roadblocks is behind us.
We have been following the short but intensive campaign with great interest. The dialogue didn't feature as a major topic which is a good thing. The dialogue was never meant as a goal in itself, but rather a tool to enable Kosovo to deal with the real issues for well-being and prosperity of Kosovars, economy and employment being the main ones.
When asked about new faces and the move of personalities from civil society, business and media to politics, I often commented that it enriches the campaign and could enrich the Assembly, too. It is encouraging that people who didn't spare criticism decide to run to change things for the better. They can bring new energy, new dynamics and new ideas to politics – and they are today equally needed throughout Europe.
I'm sure Kosovo will take a few lessons learned from this campaign for a thorough electoral reform before the next elections. We have already raised the need for full transparency in party funding and especially campaign financing. This is where the potential for corruption starts growing. And that's why it needs to be addressed. There are many other aspects of the electoral system which would also need to be examined, starting from making it simpler.
It is not for me to suggest any particular choice for voters. It is only the people of Kosovo who can make a choice, since they will live with their choice for the next four years. If you ask me – I will cast my vote soon in the elections in Slovenia. Whether voters will choose a new mission or a new vision to do the turn or bring them alternative is up to them. The most important is that the winner results from a regular, fair and credible electoral process, so that the institutions are not challenged for their legitimacy.
Whoever wins the elections and hopefully forms a strong government, will have to deal with the same issues, problems and challenges, from the economy and employment through the rule of law to continuing the normalisation process with Serbia and integration of Serbs in Kosovo. The winner will take upon a huge responsibility. Not only to fulfil campaign promises but to fast-forward Kosovo to the future. Voters should hold them accountable.
The EU will continue to stand by Kosovo citizens and will support the efforts of the new government for a better and more prosperous Kosovo. The task of the true leaders is not only to lead their citizens to the future. It is also to enable them to cast their vote in a free and fair way and to make sure that each and every vote counts – and is counted!