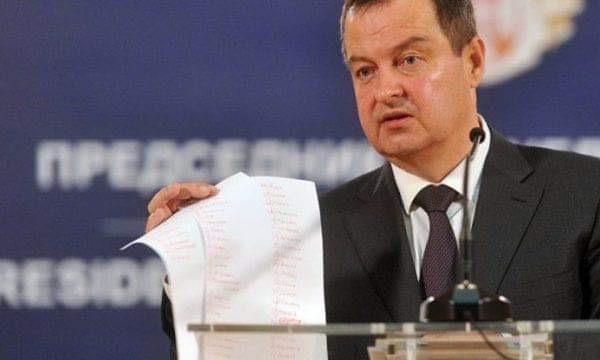 Serbian propaganda against Kosovo and its American friends has recently intensified. Nowadays, following Russia, Serbia has openly launched a black propaganda against senior American figures, which helped liberate Kosovo from Serbia's terror and genocide.
By Mentor Shala
This dark campaign is this time being led by Serbian Foreign Minister Ivica Dacic.  The senior Serbian official has recently engaged several media in Serbia to defame and denigrate senior American figures, including former President Bill Clinton with lowest possible defamation.
"Kurir" web-portal, which is in Dacic's full control, has attempted to smear President Clinton by reporting that many years ago he was allegedly involved in a sexual affair in the Caribbean islands invented by Serbian propaganda, where minor girls were involved.
Serbian propaganda and lies know no bounds and go beyond the boundaries of the inconceivable to just reach the goal.  This whole situation comes at a time when the dialogue has come to an end as well as the centuries-long battle between Kosovo and Serbia and the U.S. has a key role in reaching a long-term peace agreement between the two countries, that will result in a mutual recognition between the two countries and a UN seat for the Republic of Kosovo.
Serbia has realized that there is no other way, so it has intensified its campaign against the US supporters of the state of Kosovo so that they can gain something more in the process.
Furthermore, Dacic has launched another very dangerous campaign, attempting to interfere in the U.S. domestic affairs, which he was warned about by the U.S. officials.
He has called on Serbian-Americans to vote in favor of Donald Trump in next year's presidential elections, as according to him, the Trump administration has turned its back on Kosovo due to Kosovo's Government disobedience in lifting taxes on Serbia and increase of corruption, and this would be a good opportunity for Serbia to regain the U.S for its ally.
"Specifically, as Foreign Minister, I will organize an arrangement to formalize support for Trump in the next election. Serbs in America are still voting for Trump. If we do this wisely, if we unify those votes, which are not few, we will create a better position in the new administration," Dacic told the Serbian media.
The call made by Dacic was considered an intrusion into U.S domestic affairs by Michael Carpenter, a former US Department of Defense official in –charge for Russia, Eurasia, and the Balkans. He said that Serbian Foreign Minister Ivica Dacic is planning to interfere in the U.S domestic politics by inviting Serbs in America to vote for Donald Trump in the 2020 election.
Carpenter, a director of the Penn Biden Center, who also served as a political adviser to the U.S. Vice President Joe Biden, told VOA he believes that with that call "Dacic was making a big mistake" and that "support for Serbia's Europan path is an issue that the two parties in the US must agree on," Carpenter wrote on his Twitter profile.
Meanwhile, the US analyst and publicist Janusz Bugajski told RTK that the United States of America has not changed its stance on Kosovo, but this is a propaganda and tendency of the Serbian state, more specifically of the minister Ivica Dacic that the American readiness to normalize Kosovo-Serbia relations presents as a shake-up in the US attitudes.
"What we are seeing now is that the game is being played in Belgrade by Foreign Minister Dacic. He is trying to trick the whole process into appearing that the US is backing Serbia and not Kosovo's status anymore. This should be taken as propaganda and not reality," Bugajski told RTK.
Serbia is known, at least in the Balkans countries, and even wider for its propaganda and lies and therefore Kosovo institutions should take this aspect more seriously and be more cautious in their further actions, as this has seriously damaged Kosovo's position in the international arena and could have consequences in the state-building and the future processes of our Republic's integration into international institutions./ibna