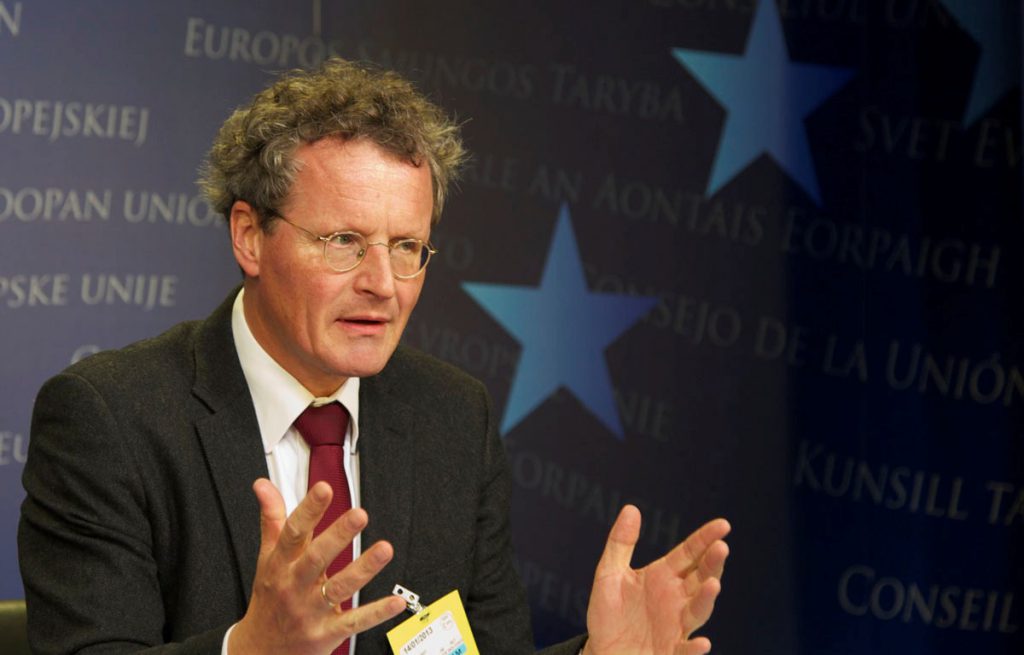 By Ambassador Bernd Borchardt*
Albania has had a slow start in establishing a broader framework in which to engage in coming to terms with its communist past. At the moment, we can see the shifting from silence to an active engagement with the past in various fields. It is encouraging, given that it will ensure Albania's democratic future. This can only be established when previous human rights violations and crimes have been addressed and a public discussion about the difficult past have taken place.
We have followed with great interest the recent debate on the broadcasting of movies produced during the totalitarian regime on TV. The public interest that it has triggered, as well as the numerous reactions to the results of our survey on Albania's past published last December show that there is still a need to talk and develop a collective liberalizing narrative about such a painful past.
Memorialization is important for honouring those who suffered or died during the dictatorship. It can be presented in different forms, from museums and monuments, to places named after victims, preservation of former torture centres or concentration camps, temporary exhibitions or even renaming streets or buildings. Dealing with the totalitarian past is both a societal issue, and a deeply personal one, not only for the regime's survivors, but for all Albanians.
In Germany, where I am from, we have many memorial sites, plaques, monuments, museums, exhibitions and documentation centres. These have been established by different actors, as well as by the state, and are devoted to commemorating victims and informing the public about crimes, and the suffering they provoked, during the National Socialist regime, and more recently under the communist regime in East Germany. We have the Berlin Wall Memorial, which is a centre for visitors, in it, you can visit an exhibition devoted to 'The Wall and the Death Strip', honouring the death of 138 people who lost their lives at the Berlin Wall. Further memorials are located at former jails sites in the former German Democratic Republic: such as in Berlin-Hohenschönhausen and Bautzen. Exhibitions and collections give visitors an understanding of jail's function and use, detention conditions and individual victims' fate. Former German Democratic Republic's history is a topic in many museum exhibitions.
Albania is slowly advancing in this field; I believe there is room for improvement in coming to terms with the past. You may be familiar with the Survey "Citizens understanding and perceptions of the communist past in Albania and expectation for the future", published last December as part of OSCE project for "Supporting a platform for national dialogue about the human rights violations of former communist Regime", – in it, nearly 90% of respondents support the creation of a Communist dictatorship national museum. Additionally, 63% of respondents felt that sites of persecution (for example, prisons and internment camps) should be preserved.
Our identity is shaped by our past. Who bears responsibility for what in the past? To what extent should such responsibility be ascribable to the individual, a group, a regime, or the society? A broad discussion about the past contributes to finding possible answers to this question, and is thus important for a society. It has the power to put traumatic memory to work in a positive way. This is why the OSCE in Albania gives prominence to our work to support the development of a national dialogue about the past, and why we work in this direction with such a diverse range of stakeholders in the country – including, crucially, young people. Memorial culture has to be developed in a social discourse, as broad as possible. Different views on the past must be respected as long as they do not defend crimes. Society needs time and information to explore what was wrong and what was right in the past until it arrives at the construction of a collective liberalizing narrative. In Albania, this narrative is still under construction.
Places of memory have a great importance in engaging with a country's past. They are important to the formerly persecuted who are still alive, and also play an important role in informing the younger generation, especially those born after 1990. In this context, memorial projects can encourage those who suffered the harshness of the regime to explore disputed past memories, as well as, encouraging and promoting knowledge and analysis among the youth.
A successful memorialization needs inputs form many fields: historians, museum designers, artists, trauma specialists, human rights activists, transitional justice experts. Bringing together all the actors in this field is one of the reasons behind this meeting, as it is important to work together and  co-operate in developing positive and lasting results as dealing with the past gains more momentum.
*Remarks by Head of Presence, at stakeholder co-ordination meeting on places of memory, 21 March 2017