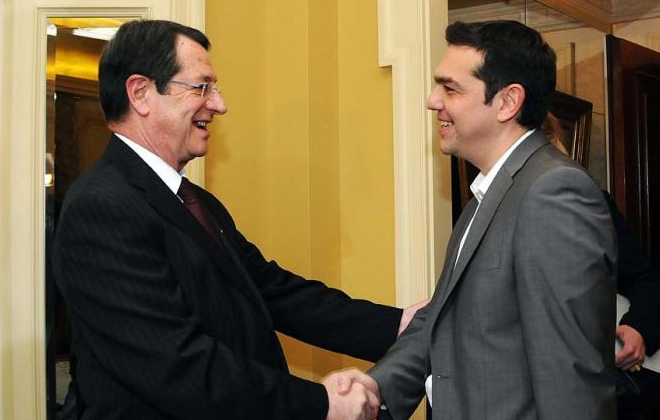 Nicosia, February 9, 2015/ Independent Balkan News Agency
By Kyriacos Kyriacou
Newly-elected Greek prime minister Alexis Tsipras' recent visit in Cyprus has created two big questions:
1) What should Cyprus expect from Greece?
2)And what should Greece expect from Cyprus?
The first question is old and was answered many times by previous Greek governments.
Cyprus expects supports especially on politics and more specifically on the Cyprus problem, which is the -on going- negotiations between the Greek and Turkish Cypriot sides to unify the divided island since the 1974 Turkish invasion.
Greece's stance was always: "Cyprus decides and Greek supports".
Of course this support was and will continue to be diplomatic. In matters of defence, Greece, due to its financial situation, cannot afford to help Cyprus in a military conflict- if needed- especially against a military power such as Turkey, even though its considered a common "threat".
Tsipras is expected to follow the same policy. He will support Cyprus through the diplomatic road.
And now the second question:
What does the new Greek government expect from Cyprus?
The answer is also well known. Tsipras expects support for his anti-troika and anti-austerity policy.
But what sort of help could a troika-friendly government give to an anti-troika government? None!
Tsipras is not expected to get any significant support on his economic choices from the current Nicos Anastasiades' government.
Even a minimum Tsipras win over his courageous objectives could bring a major blow to Anastasiades' troika choices. Anastasiades' policies will be proven wrong and debilitating for the Cypriot society.
Anger will rise against the Cypriot government and the ruling right wing party (DISY). Anastasiades will be blamed for lack of determination and inability to fight troika.
The problem for the current Cypriot government will increase if Tsipras' anti-austerity policy spreads to Spain, Italy and other EU countries with similar financial problems.
This Cypriot stance towards Tsipras policy was witnessed during Tsipras visit.
At the same time the Cypriot President was meeting with the Greek Prime Minister, Cyprus officials were meeting with Troikans to demostrat how well they are applying harsh economic measures against the Cypriot citizens.
However is there any chance of an Anastasiades' change of stance towards Tsipras anti-austerity policies?
Only time will tell…