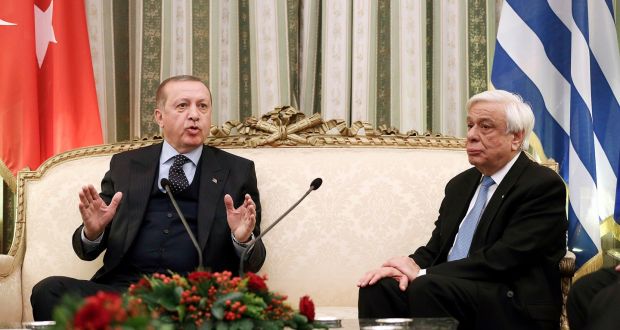 No one should have been surprised by the statements of the President of Turkey who is visiting Athens and of those made by the state and political leadership of Greece.
An observer, free of phobic disorders and national arrogance, would decode the public statements of the leaders as an attempt to confirm the opening of channels of communication between the two countries.
As both sides have suggested, meetings are most needed between countries with bilateral problems rather than between states with no differences. Even more important is the presentation of the agenda of bilateral disputes, much more so, publicly. The public discussion is of particular meaning and importance in the way that it is recorded thus, the speaker is publicly responsible for his words.
If one observes the statements made by the Turkish President carefully, several questions around various ambiguities that existed would be answered; ambiguities which were used by many people who attempted to beset efforts to bring the two countries closer to one another.
First of all, speaking at the joint press conference with the Greek Prime Minister, President Recep Tayyip Erdogan made clear that Turkey does not covet the territorial integrity of any country, of no neighbouring country. In essence, this statement deconstructs all arguments of those who accuse Turkey of aggression against foreign countries. It dissolves arguments of circles inside and outside of Greece that they used them so as to block possible betterment of the two sides' ties. A betterment in their relations that will upset many economic circles inside the EU.
Secondly, for the first time ever, the Turkish President speaks publicly and in the most formal of ways in front of the Greek Prime Minister and a number of journalists, about a Muslim minority in Greece, Turkish, Pomak and Roma origins. This statement puts an end to attempts to marginalise the Muslim community, presents its true dimensions and that could do only good to a group of people who live in Greece under difficult conditions. At the same time, he clearly notes that is internal affairs of Greece, and that Turkey, if requested to so, it could help towards resolving any existing problems.
Thirdly, he speaks of a just and viable solution to the Cyprus problem, and is committed to make efforts towards this direction. Although this has been repeated many times, the time and place where this is said is indeed important, as it follows the fruitless effort in Switzerland and the two Summits in Geneva and Crans Montana.
Fourthly, the participation of the Army Chief of Turkey in the Turkish delegation is also of particular importance, as Recep Tayyip Erdogan came to Greece to discuss and find solutions.  
Certainly, it is difficult to solve chronic issues that afflict the two countries' relations during a two-day visit. But, as it turned out, there is the willingness to discuss those issues in depth. Tayyip Erdogan travelled to Greece wishing to open a channel of communication between Turkey and Greece with the wish to keep it open in future, too. The same thing that both the Greek side and Alexis Tsipras himself, also want.
The Greek-Turkish Supreme Council of Cooperation in February 2018 in Thessaloniki will be the "cornice" of this effort and it will clearly prove if the visit of Recep Tayyip Erdogan to Greece was successful.  
Both leaderships bravely made the first step and spoke about their differences openly. The second step is for the leaders to present a brave face in order to find the solutions that will allow the people of the two countries to live a harmonious and creative life…/IBNA
Main Photo: Simela Pantzartzi/AFP/Getty Images