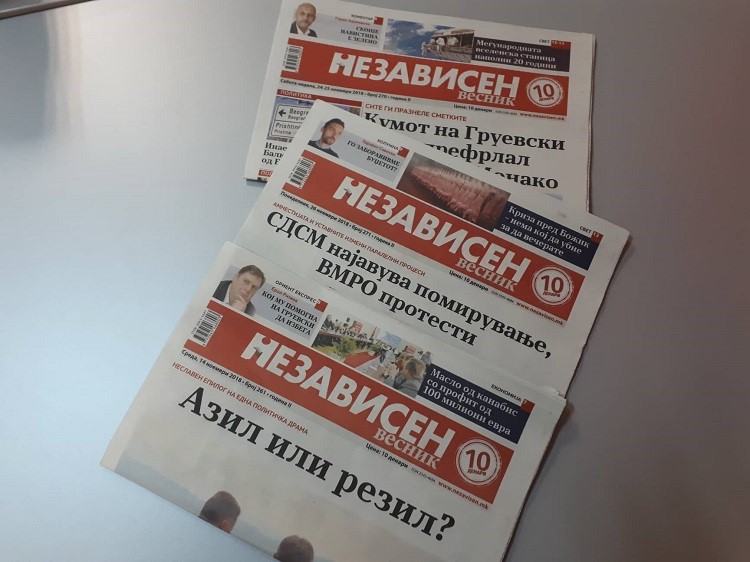 Even the hardest road begins with just one step. That's how Nezavisen Vesnik started last November 27 in Skopje, in the time of decay of one political system and the birth of a new hope for better journalism in the country. That is when we gave ourselves the task to give our best, to bring back the reputation of the profession, to restore the power of information, to be objective, and above all an independent daily newspaper and, of course, to deserve the name that we carry with pride. Let's be a positive and democratic example of the new time that, as we believed, can only come with a fresh approach and energy.
Although one year is a very long time, and although those who read and followed us on our news website should speak for us, your comments, reactions, your indications and mutual contacts are a daily confirmation that we have achieved the expectations and that we have earned the trust of the readers, which was the most important thing to us.
Today, Nezavisen Vesnik is a well-known news brand on the media market in the country, which is fighting equally and in principle with media that built their image, that created an audience and who won a market for a period of time from one to seven decades. Our small enthusiastic newsroom has shown that professional journalistic standards are worthy of respect, that it is worth keeping independence, that it is worth pursuing ethics, that searching for facts is worthwhile, to protect the vulnerable, criticize the irresponsible, honor the successful and to encourage change.
Many did not believe that we would survive and that we would fight so hard on this extremely impoverished media market where the price to survive is often abandoning impartiality and freedom.
Those who regularly follow us know that Nezavisen Vesnik started as a news website, grew into a website and a free 16-page newspaper and, due to the circumstances on the market, expanded and was sold throughout the country. Our overall traffic, the newspaper and the trilingual website, has made us one of the most influential media in the country. It is a huge responsibility that requires further improvements from us and staying in course. Our intention is to grow, not in number of pages, but with quality content and winning a new and diverse readership. Let's break down the political barriers that created two, maybe even more than two societies in the country, and encourage all the processes leading to a more successful state.
In order to succeed in this, on this occasion we would also like to seek greater social support from businesses, institutions, organizations and citizens in general for the media that, at the moment, seem unnecessary to many and realize their critical power only in difficult times and turning points. For them to fight and help the freedom of the media with the same enthusiasm with which we started this project, because without freedom neither we would succeed, nor the country would move forward.