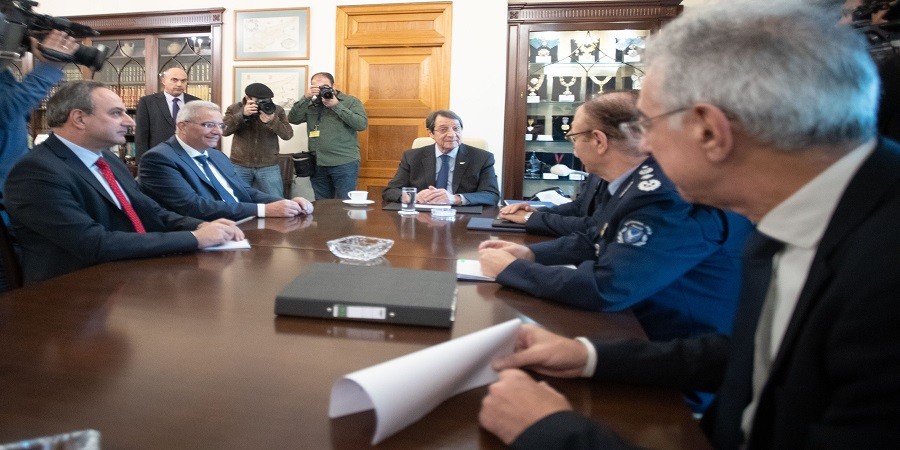 The President of the Republic of Cyprus, Nicos Anastasiades, received today at the Presidential Palace the AKEL Secretary General, Andros Kyprianou, in the presence of the Minister of Justice and Public Order Mr. George Savvidis, the Government Spokesman Mr. Prodromos Prodromou, the Chief of Police Kypros Michaelidis and the AKEL MP and spokesman Stefanos Stefanou.
Speaking to the press after the meeting, Prodromos Prodromou said that "the meeting revolved around the issue of investigations conducted by the Police for information on possible breaches of privacy legislation, and whether any such machinery was found in Cyprus or whether such an offense was reported.
Andros Kyprianou was informed that the Police are thoroughly investigating the matter; investigations are ongoing and all parties agree that the police investigations should be completed.
The President of Cyprus once again stated that he is particularly sensitive to the protection of personal data, the security of communication of citizens and of course political persons as well".
When a reporter made a remark about the AKEL SG stating that there appeared to be co-operation between the company in-question and the police, and after being asked what kind of co-operation this was, the Spokesman replied that "I do not think we should comment on specific information during the investigation.
What we do know from the police is that the investigations are well under way; a really thorough operation has been set in force and all the information that exists or has come out will be investigated by the police and we will get the results".
He added that "I do not think the police are cooperating with these companies; if such an allegation exists, that would be the Attorney General's decision to look into".
Stepping out of the Presidential Palace, Andros Kyprianou commented that he was briefed on the process of the investigations. AKEL's secretary general stated he was informed of the investigations and called for the operation to be completed.
"During the meeting we presented to the Chief of Police and the President evidence that has come to our understanding, and I believe they will help look into some of the evidence in greater depth", he said.
"It is of the utmost importance", he added, "to send the message that no one can violate anyone's privacy".
"We are concerned", he said," about whether the Attorney General should appoint an independent committee, given that there appears to have been some kind of cooperation between the police force and the company in-question".
"I will be pleased when the process is complete and it becomes clear what went under", he concluded. /ibna