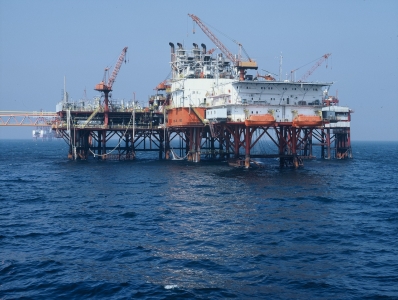 By Daniel Stroe – Bucharest
OMV Petrom, a company controlled by the Austrian group OMV, announced it has discovered new reserves of oil in shallow waters off the Romanian coast of the Black Sea, but production wouldn't start sooner than 3 to 4 years,  reads a press release of the company.
The discovery of the new oil reserves was made in the Istria perimeter, about 60 kilometers away from the shore and 2.1 kilometers under the sea bed. The water in that sector is 50 meters deep.
If the reserves prove profitable, production could start in 3-4 years, with the overall production costs rising to more than 100 million Euros, the text further reads.
The first estimations of the production tests show a potential production of 1,500-2,000 barrels per day. In comparison, OMV Petrom had an overall daily production of 78,400 barrels per day in 2013.
"The Black Sea is a very important area for OMV Petrom, an area where there's potential for further discoveries. Currently, the production in the shallow waters area of the Black Sea represents about 18 per cent of the total hydrocarbons production in Romania", Gabriel Selischi, member of the exploration and production department of OMV Petrom, is quoted in the press release.
The announcement comes days after Voice of America said in an analysis that Romania is to attain energetic independence by the end of the decade, thanks to important reserves of shale gas and sources of alternative energy such as eolian and nuclear energy. Romania is currently the third country in the EU, after Denmark and Estonia, as concerns potential to reach energetic independence, it further said.
Romania already ensures 80 per cent of its energetic needs out of its own resources – oil, natural gas, coal, nuclear and hydro-energy, while the remaining 20 per cent consists in gas imported from Russia.  Apart from the large reserves of gas and oil in the Black Sea, Voice of America also quotes the US administration which estimates Romania has shale gas reserves of about 1,400 billion cubic meters, the third largest such  reserves in Europe, after Poland and France.