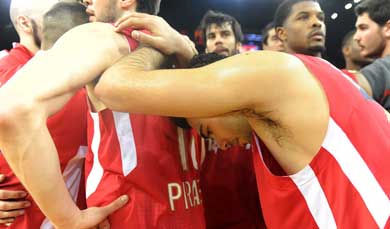 By George Georgakopoulos
Olympiakos got within two seconds of clinching its spot in the Euroleague Final Four, but managed to let it slip for the time being as it went down 74-73 at Anadolu Efes on Friday.
It can still make the semifinals, though, if it beats the Turkish team in Piraeus next week in the last game of the best-of-five quarterfinal series, that is now tied at 2-2.
The Reds were considerably better in Game 4 than in Game 3 two days earlier, and looked like winning the game and the series after leading for most of the match in Istanbul.