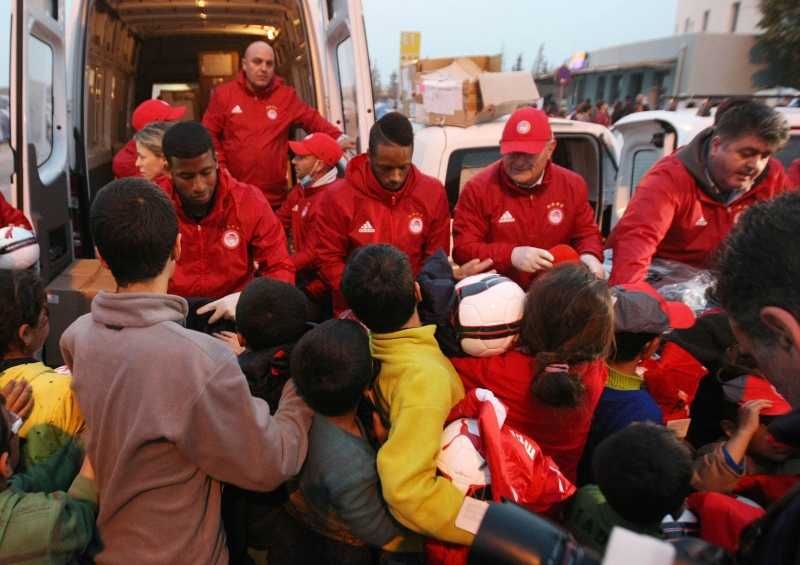 Athens, March 29, 2016/Independent Balkan News Agency
By Spiros Sideris
Although refugee flows from the islands of the Aegean Sea to the port of Piraeus are reduced, the situation is stifling for more than 5000 refugees, who remain there.
Despite the poor living conditions, refugees refuse to leave the informal settlement and go to shelters because they have their eye only on Idomeni and the road that lies ahead for Europe.
In these difficult times for the largest port in Greece, the team of Piraeus, Olympiakos, by decision of its president, Vangelis Marinakis, is getting involved providing assistance to refugees both regarding their feeding and clothing.
Since March 4, when Olympiaks started providing assistance to refugees, there have been given more than 65,000 food rations from the restaurant of "G. Karaiskakis", (the seat of the club), with about 3,200 servings daily and more than 120,000 clothing types (jackets, sweatshirts, pants, underwear, socks, balls, etc.).
The president of Olympiakos Vangelis Marinakis, in an interview with BBC World Service said: "Olympiacos is always there to provide assistance to those in need and for this reason we did not have second thoughts in providing help to refugees. This dictates the philosophy and ethos of the Club. Greece is experiencing a difficult economic crisis, as everyone knows. And Olympiakos was the first who stood at the side of the Greeks. Olympiacos is, after all, more than a football club.
Recent events in the Middle East forced many to flee their homes and seek safety elsewhere for themselves and their families. Many of these people –  and we are talking about thousands – have found temporary shelter in the port of Piraeus. The Piraeus area is the home of Olympiacos. We felt it was our duty to give these people the care they could not provide for themselves. We offer that we can", Marinakis cocluded.
This effort of the Olympiakos, which comes to show the social face of sport and its people, will continue according to the president of the Olympiakos for as long as necessary.
Also commendable – apart from the participation of Olympiakos' workers, volunteers and ordinary fans – is the participation of the starts of the club's footballers, who regularly visit the informal settlement and give courage to refugees and give smiles to children, playing with them.