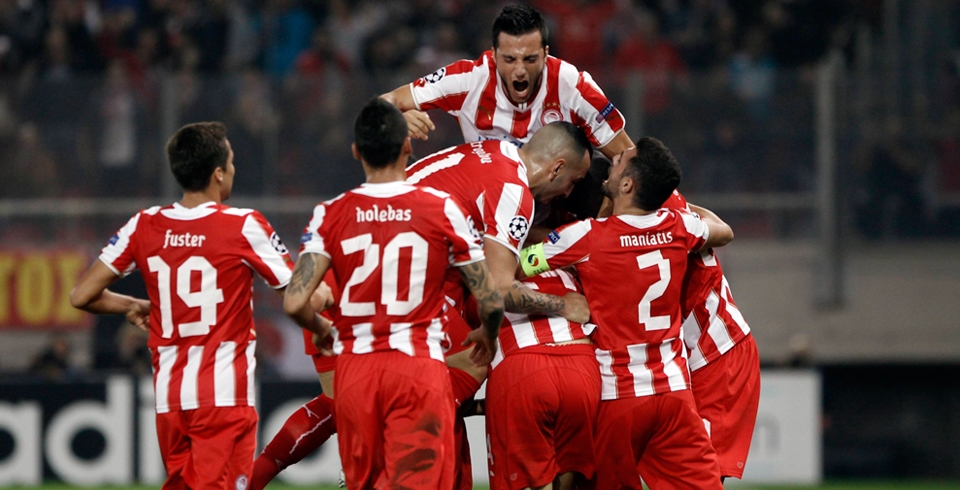 By Spiros Sideris – Athens
A perfect start to the Champions League group stage was made by Olympiacos yesterday, after his 3:2 win against last year's finalist Atletico Madrid at the 'Karaiskakis".
"Borrowing" Atletico's tactics, Olympiacos 'hit' the Spanish mainly with counterattacks in the first half hour of the game, scoring twice with Mazouakou in 13′ and Afelai in 31′. While the Spanish champions had possession of the ball, the "Reds" took advantage of the few opportunities that presented to them, ctching their opponents by surprise. First it was Mazouakou with a shot who put the ball at the back of Omplak's net, followed by Afelai who completed exemplary a counter-attack effort started by Tsori started and continued by Mitroglou.
Atletico, after the shock of 2-0 reacted almost immediately Madzukic scoring with a header in 38′, after a cross from Ansalnti, making it 2-1. The Spaniards' attacking spree continued in the second part, while Olympiacos was limited to a passive role. The "Erythrolefkoi" however, withstood the pressure of the "Madrileños" and came out unscathed after a tight five minutes, during which, Griezmann twice and the Turan once came close to scoring. The changes made by Mitchell at this time "refreshed" Olympiacos' midfield, who found space to do damage to the Spaniards. With Fuster's entrance, the performance of the whole team, "freeing" Kasami and allowing him to take more initiatives.
The third goal took some of the pressure off the Greek champions, who scored in 73′ with Mitroglou, who took advantage of Kasami's run down the right flank. The international striker, even though for much of the game he appeared "lost", he was in the right place at the right time and with a nice feint got rid Miranda from his back and returned to goals after ten months.
The 3-1 temporarily reassured Michel's, something that Atletico took advantage off, netting another one with Griezmann in 86′ for the final 3-2. The next ten minutes turned into an offensive monologue of "Rojiblancos", but to no avail.
In the other match of Group A, Juventus won 2-0 thanks to two goals by Carlos Tevez at 59′ and 90′.
Olympiakos: Roberto, Elabdellaoui, Abidal, Botia, Masuaku, Maniatis, Kasami (83 Giannoulis), Domínguez (57 Fuster), Milivojevic, Afellay (69 N 'Dinga, Mitroglou.
Atletico Madrid: Oblak, Juanfran, Miranda, Godin, Ansaldi, Arda, Koke, Gabi (56 Griezmann), Suarez (75 Niguez), Garcia (66 Cerci), Madzukic.