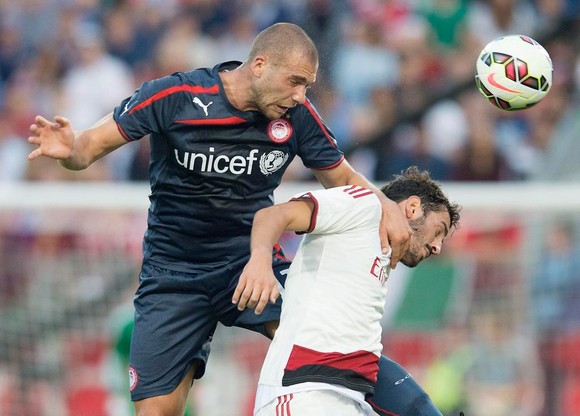 By Spiros Sideris – Athens
A very good Olympiakos team made the ​​perfect debut at an international tournament in Toronto beating AC Milan 3-0 with goals from Domínguez, Diamantakos and Mpouchalakis (16 ', 49' and 78 '). The Italians, with several changes in their team, had a classic opportunity to score with Saponara on the 55′. The "Erythrolefki" (red and white) have every reason to smile and had several players at a very good day.
From the first minute Olympiakos showed his aggressive mood closing down on Milan and creating the conditions to score, with Dossevi, Domingues and Fuster undertaking this role. From such an attempt Dossevi, who proved once again that he is a gifted player who can make a difference in this year's Olympiacos team, created the only goal of the first half.
Specifically, in the 16th minute with a run from the right, the Frenchman found Domingues beautifully, who controled the ball and beat Gabriel with a nice shot to make it 1-0. In a similar fashion, he provided David Fuster with an opportunity to score eight minutes later, but his shot went wide.
Throughout the first half, the Italian team managed to threaten just once, when towards the end Pazzini did not shot as he would have liked in a tet-a-tet with Roberto.
Mitchel made ​​four changes at the start of the second half, without however changing Olympiacos' formation. One of the changes was Dimitris Diamantakos, who scored within minutes of stepping in.
Kasami passed it to the left to Masuaku, who now acted as a winger with Cholevas back, who crossed low to the upcoming Diamantakos, who made it 2-0.
This apparently awaken the Milanese, who just six minutes later had a shot at the crossbar with Saponara.
Mpouchalakis who came late in the game scored the third goal for his team in the 78th minute with a beautiful shot.