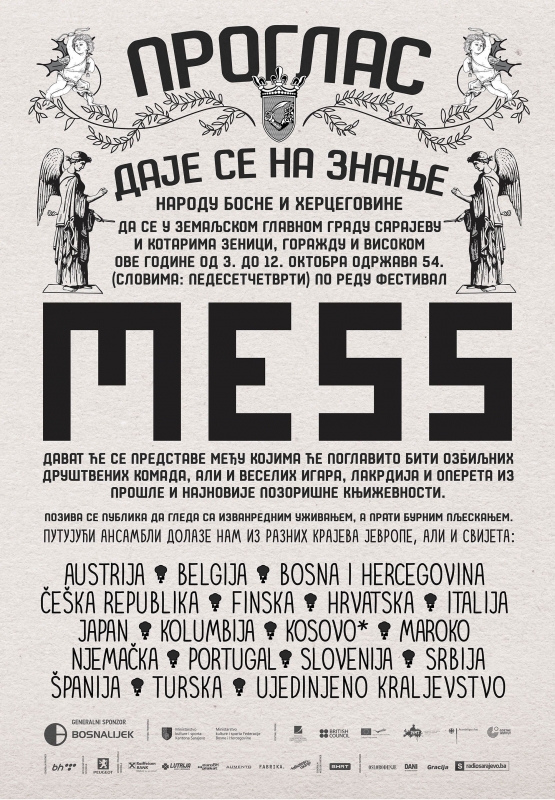 By Mladen Dragojlovic – Banja Luka
On Friday night Sarajevo will host one of the oldest theatre festivals in the region, MESS, which will give the opportunity to fans of this kind of art to see a large number of performances.
It will be the 54th edition of the festival, which was held even in the hardest time for this city, during war in BiH. The motto for this year is "future of the past" and visitors in the cities Sarajevo, Zenica, Visoko and Gorazde will see 25 shows from 18 countries from Japan to Morocco and Colombia.
Sarajevo is the main host of the festival and the opening ceremony will take place at Friday night with show "Front" directed by Luka Perceval, and performed by Thalial theatre from Germany. At the same time, in Zenica will start the performance of a show written by Almir Basovic and Almir Imsirevic, "Balkan requiem", directed by Stevan Bodroza and performed in Zenica theatre.
It is interesting that the official poster of the festival this year is written in Cyrillic letters, which many in the country consider as one of the symbols of Serbs and is not welcomed in some parts of the country. Festival director, Dino Mustafic, explained that Cyrillic is a part of the cultural heritage of the country.
"The attempt to politicize the Cyrillic poster failed from the beginning, because MESS festival has sensitised the public in understanding that the festival has an international character. For us it is an absolutely natural and normal thing. We don't need to start from the deformity in society, but from that what is natural and normal. When we talk about BH, I think that it is civilizational shame to the delete Cyrillic inscription on all places with black paint, because it is discrimination of a letter and a culture, and we want to affirm our multiculturalism as a basis of BiH society", Mustafic told the media.
He emphasized that MESS had a very important role in BiH and the region after the war, because it successfully made the first connections between theatres from Banja Luka and Sarajevo, connected theatres from both sides of divided city of Mostar and welcomed theatres from the region in time when diplomat connections were still not established.
This year, "Golden laurel wreath" as a mail festival award, goes to directors Paolo Magelli and Jan Lauwers. In order to attract poeple to come to the festival, for the first time this year several shows will have special equipment for people with hearing impairments, to help them hear the artists.