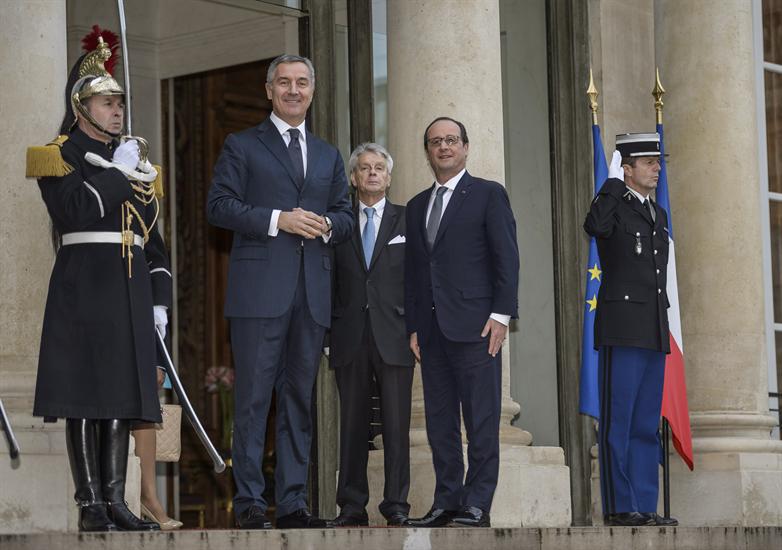 Podgorica, December 11, 2014/ Independent Balkan News Agency
By Adnan Prekic
Prime Minister of Montenegro Milo Djukanovic hosted at the Elysee Palace the French President François Hollande. According to the announcement after the meeting Djukanovic and Oland agreed that the region's economy is stagnating and that it is necessary that the European Union have more abundant investment framework to support the development of infrastructure in the region. Djukanovic also met in Paris with French business  people to whom he presented opportunities investments in Montenegro.
Development of the infrastructure in the region is necessary for the stability as well as the economic and democratic progress of the Western Balkan countries, agreed French President François Hollande and Prime Minister Milo Djukanovic. The countries of the European Union therefore should support the region, especially major infrastructure projects.
Oland and Djukanovic agreed that the situation in the region is stagnating. He feels that due to the length of the economic crisis and that the economy of the region is facing a third recession. Oland said that he supports Montenegro as a positive example in the field of EU and NATO integration.
Djukanovic earlier also met with French business people. Prime Minister Milo Djukanovic said that one of his objectives to visit France was an attempt to make that country "an active and important partner in the implementation of development processes in Montenegro".
In the exposure during the meeting with the Union of Employers of the Republic of France, Prime Minister Djukanovic said that Montenegro now has the most advanced economy among the six countries of the Western Balkans, which share European integration as a common strategic objective. Recalling that until recently Montenegro was the least developed Republic of the former Yugoslavia, Djukanovic said that Montenegro is aware that there is no progress in European integration, nor in the democratization of society, without overcoming the age-old economic backwardness or dynamic economic progress.
Prime Minister recalled that from the beginning of the crisis, Montenegro was one of the most attractive investment destinations in Europe "with an average annual GDP growth around 9% in a three-year period". "Montenegro is still at the top of the European transitional economies when it comes to foreign direct investment. In the last decade the average share of FDI in the GDP of Montenegro was around 18.5%.
Djukanovic also said that projection of growth of the Montenegrin economy, which ranges from 2.5% in 2014 to 3.5% in 2015 and 4 or more percent in the coming years, is both reassuring and realistic.