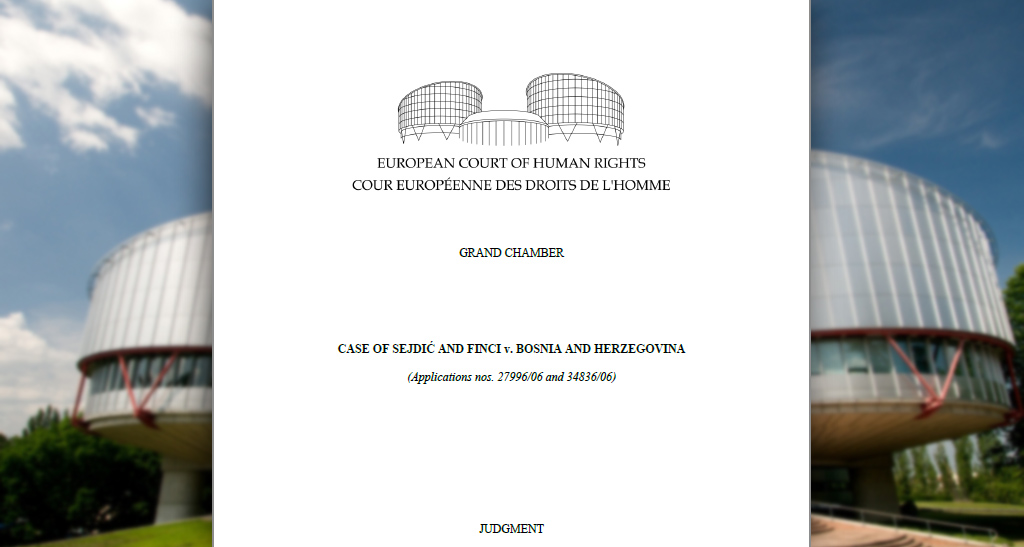 On 22 December 2009, the Grand Chamber of European Court of Human Rights (ECtHR) in the landmark case of Sejdić and Finci vs Bosnia and Herzegovina ruled that BiH's Constitution and electoral laws are discriminatory. According to the Court, these laws prevent citizens who do not belong to the category of "constituent peoples" from standing for election to the BiH Presidency and the BiH House of Peoples.
International community High Representative in BiH, Valentin Inzko, said in a written statement that the essence of the 10-year-old ECtHR ruling is clear: All citizens in BiH should have equal rights.
"This is not a radical idea; it is the way normal democracies work. Discrimination on the basis of a person's ethnic origin is a form of racial discrimination, and particularly egregious. In its decision, the ECtHR held that difference in treatment exclusively on the basis of or to a decisive extent on a person's ethnic origin cannot be objectively justified in a contemporary democratic society built on the principles of pluralism and respect for different cultures," Inzko states.
He emphasized that with the ECtHR ruling, BiH authorities were ordered to take necessary steps to uphold the rights of citizens and effectively end discrimination based on racial and ethnic grounds. However, 10 years after the ECtHR ruling the discrimination continues, as the ruling has not been implemented.
"Dayton Agreement in its Annex 4 which is Constitution of this country says that Bosnia and Herzegovina shall be a democratic state, which shall operate under the rule of law and that the European Convention for the Protection of Human Rights and Fundamental Freedoms and its Protocols shall apply directly in Bosnia and Herzegovina and have priority over all other law. Having this in mind, it is high time to offer equal treatment to every citizen of BiH as also provided under the UN Universal Declaration of Human Rights", Inzko points out.
Head of EU Delegation and EU Special Representative to BiH, Johann Sattler, wrote on his blog that "there is no perfect country".
"No country is perfect, but valuing the freedom of every person to make a choice for themselves and creating opportunities to turn those choices into real options is what every aspiring EU member state should do. In other words, if a Jew or Roma, or any other citizen for that matter, want to run for election in any EU member state, they must be able to do so. Some may try to find excuses for why ten years was not enough for politicians in this country to find a solution that would protect and affirm basic democratic rights of all citizens of Bosnia and Herzegovina. The Dayton Peace Agreement stopped one of the bloodiest wars in the late 20th century, but I do not think that its deficiencies were meant to remain unresolved. Rebuilding a long-lasting peace is about overcoming and challenging the retrograde narrative of the past. For a start, by ensuring that one's rights are not diminished under the pretence of protecting someone else's," said Sattler.
He stated that, over the years, he heard dozens of reasons why the implementation of the Sejdić – Finci ruling is overly complicated or even impossible.
"Regardless, it simply has to be done to ensure that the country protects individual freedoms and provides just fundamental principles. It is also a binding international obligation of Bosnia and Herzegovina and one of the priorities identified in the EC Opinion on its application for the EU membership. "The political obstacles, practical difficulties or even a lack of funding cannot be excuses for not implementing the ECtHR rulings," is also noted in the recently published Expert Report on Rule of Law issues in Bosnia and Herzegovina," Sattler concludes./ibna