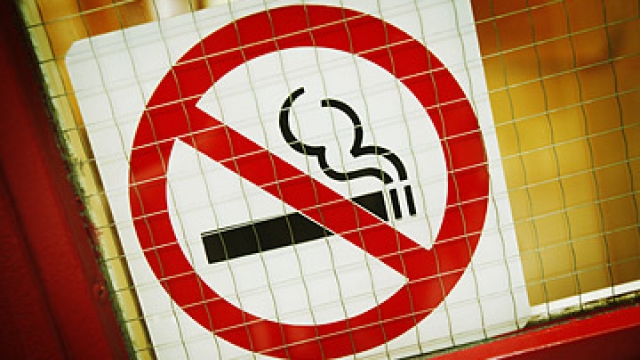 IBNA Special Report
Pristina, November 27, 2014/Independent Balkan News Agency
By Elton Tota
Based on a study carried out by the Kosovo Advocacy and Development Center, public institution officials are the biggest breachers of the anti-smoking law.
Arben Lila, of KADS, says that unfortunately, besides restaurants and other public places, smoking is also done in public institutions.
"Based on our findings, the level of the violation of the anti-smoking law in public institutions has been the following: 7,5% in health institutions, 8,8% in universities and colleges, 16,2% in high schools, 20% in courts and 22,2 in city halls. City halls and courts are the institutions where the biggest offenses take place", Lila says.
KADC in cooperation with the Ministry of Health have discussed activities that are taking place for the implementation of the Anti-Smoking Law and other steps in order to enforce its application.
A meeting held in Pristina saw the participation of the representatives of the Anti-Smoking coalition and inspectors from the main regions of Kosovo.
Minister of Health, Ferid Agani stressed the need for a better coordination between institutions of a central and local level for a better implementation of the law.
Referring to the KADC study in relation to the level of the application of the anti-smoking law in the country, minister Agani said that "it's clear that although the law has been successful, some institutions that must apply it, have proven to be irresponsible".
The minister said that it's time for the public opinion in Kosovo to know who these institutions are and those individuals or public figures that break the law.
Minister Agani said that he has appointed the National Anti-Smoking Coordinator to enhance the level of commitment for the coordination of actions in implementing this law.
Skender Syla, head of the World Health Organization office in Kosovo, said that the application of this law is of a vital importance, stressing three important elements in its application: political support, constant inspections and the raising of the awareness of the population.
The head of the Sanitary Inspectorate, Ilirjana Zymberaj talked about the activities undertaken by this inspectorate, while National Anti-Smoking Coordinator, Faik Hoti has presented the ongoing activities of the ministry.
The head of the Health Inspectorate at the Commune of Pristina, Xhelal Sfecla has talked about activities carried out by the inspectors of the commune of Pristina for the implementation of the law in this commune.
He said that inspectors of the Commune of Pristina are constantly engaged in enforcing the Anti-Smoking Law.
In this meeting, inspectors were thanked about their work, which is done under conditions which are not favorable, while it was also talked about what is making the application of this law even more difficult. /ibna/