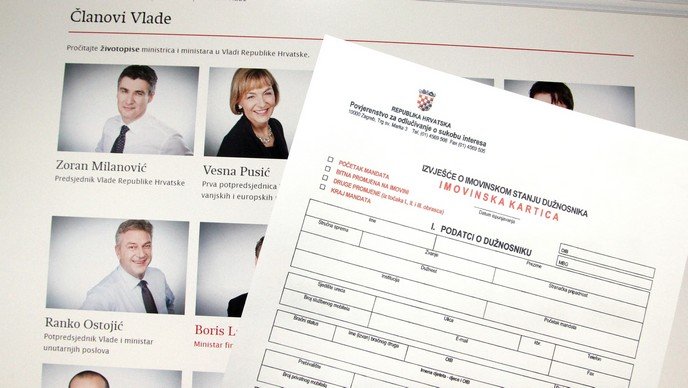 Zagreb, May 4, 2015/ Independent Balkan News Agency
By Marija Aramovic
The Commission for Conflict of Interest withdrew on Monday from their web-page asset cards of officials, because on the decision of the Agency for protection of personal data, which prohibited the publication of information on the marital status and children of officials, involving their last net salaries before taking office and loans.
"By removing the information from the asset cards of officials they lose their power in preventing anti-corruption and we assess this decision as a major step backwards", the president of the Commission Dalija Oreskovic said at today's press conference.
She also announced that an administrative procedure would be initiated against the Agency, which would seek to undo the decision of allowing the Commission to publish certain information in the reports about the financial situation of the officials.
There are around 5 thousand asset cards in question which are to be individually checked before putting them back on the Internet.
Oreskovic explained that the Commission disagreed with the reasoning as well as with the legal interpretations the Agency gave to back the decision.
"However, we are obliged to comply with an order of another state authority", Oreskovic noted.
"Statistical data on visits and hits for the website of the Commission show that the interest of citizens is growing. With removing this data, the asset card is losing its power and strength in the fight against corruption", she concluded.
This information, warned Oreskovic, are necessary to detect certain illogical moments or gaps between the lawful income of the officials from those acquired during the time in the office or the circumstances that could rise to potential conflict of interest.
The agency for protection of personal data has found that with the publication of certain personal information of officials on the website, the Commission hasn't taken appropriate technical protection measures, and that because of this flop of the Commission, personal data of officials "became available globally to the world public".