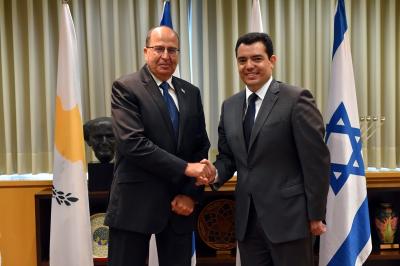 Nicosia, February 23, 2016/Independent Balkan News Agency
Israel`s Minister of Defence Moshe Ya`alon arrives on Wednesday morning in Cyprus for one-day visit, the first official visit by an Israeli Minister of Defence, at the invitation of the Minister of Defense Christoforos Fokaides.
A welcoming ceremony will be held at the Headquarters of the Cyprus National Guard, where talks between the delegations of the two countries will take place.
According to an official press release, afterwards Ya`alon will visit the military Camp of Lieutenant General Vasiliou Kapota in Nicosia, where a Monument dedicated to Cyprus-Israel Friendship will be unveiled. The monument was erected in honor of the children of Holocaust survivors, for whom Cyprus had become a transit place for their return to Israel.
During his visit, the Israeli defense minister will be received by the Acting President of the Republic, President of the House of Representatives Yiannakis Omirou. He will lay a wreath at the Imprisoned Graves in Nicosia.
He will also visit the Rescue Coordination Centre facilities at Larnaca, where he will be briefed about the work of the Centre.
Source: CNA