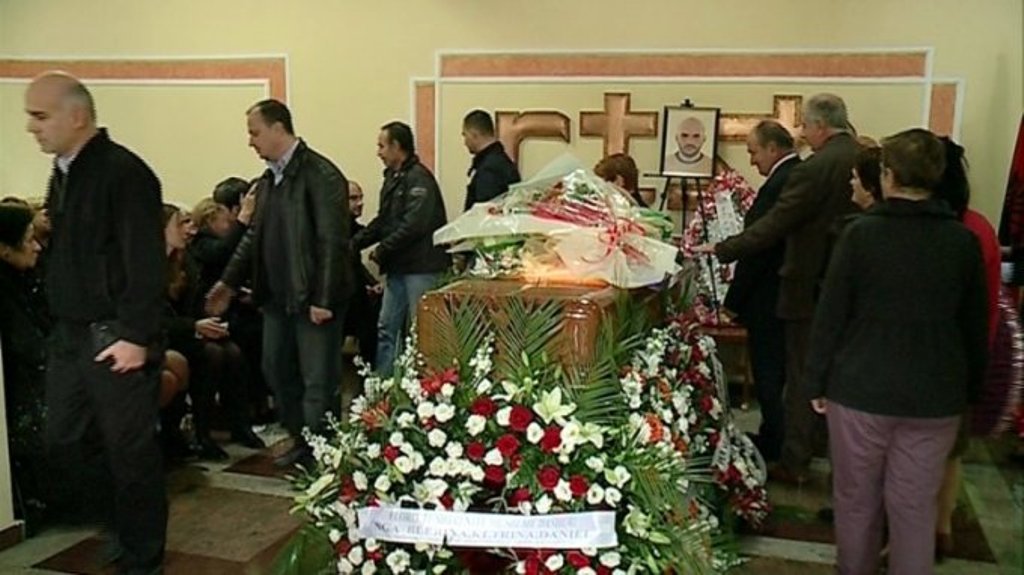 Tirana, November 18, 2014/Independent Balkan News Agency
Police authorities in Albania decided to launch today an official inquiry into the death of the notable singer of Albanian modern music, Florian Kondi, known as Dr Flori. The late singer was taken today to his last abode following homage made to him in Tirana (photo).
The inquiry was launched following claims of the family members of the singer that medical services didn't respond the calls of the wife of the deceased on time.
The now widowed woman is said to have gone by herself to the ER room an hour before Dr Flori passed away, along with her newly born baby and asked for help as her husband was in a serious condition after he had consumed alcoholic beverages.
The personnel of the ER told her that no help could be offered without the presence of police. This has upset the woman who made her way back to home and decided to once again ask for help through the telephone. A few minutes later, the ambulance arrived, but it was too late, because the singer had lost his life.
The Ministry of Health admits the fact that the ER service can only operate with the presence of police, adding that this is part of the regulation and that the wife didn't want police to be accompany her.
Public opinion has considered police presence as an exaggerated justification and it's been suggested that this has served as a cause not to save the singer's life.
A doctor of the university hospital center said that if the 35 year old would have received help on time, he could have been saved.
Meanwhile, a public debate has opened in relation to the often abnormal functioning of the ER service in Albanian hospitals.
While private hospitals charge enormous amounts of money which amount to two average monthly salaries to transport patients from their home to the hospital, public hospitals, which must offer this service free of charge, often encounter difficult conditions and a miserable infrastructure. Even availability is often criticized by the citizens, who say that in some cases, the ER doesn't offer what it's supposed to offer.
Under these conditions, in the majority of cases, people use private cars, cabs or other mans, without taking into account the fact that there exists a public ER service which is paid through their taxes. /ibna/