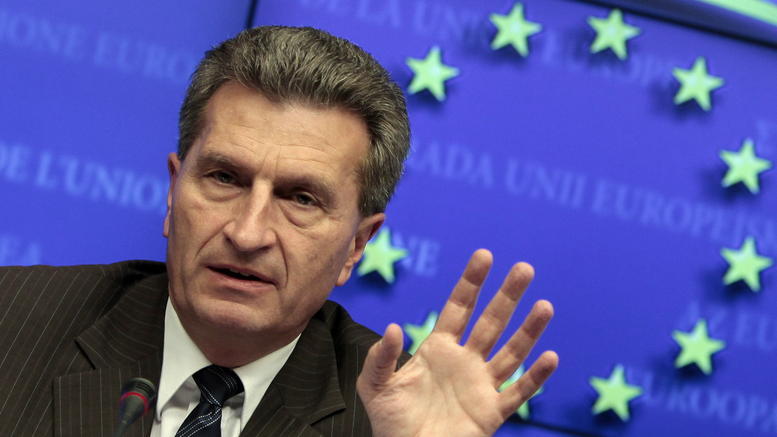 Athens, July 31, 2015/ Independent Balkan News Agency
By Spiros Sideris
As a "new opportunity" views the negotiations to provide a third aid package to Greece the European Commissioner for Digital Economy & Society, Günther Oettinger, but warns against a reduction of the Greek debt.
In an interview with the newspaper Hamburger Abendblatt, Oettinger said that "the negotiations between Greece and the EU for providing a new aid are correct" and stressed that "the Grexit has left the table".
"The interests of creditors and citizens of Greece are being balanced. The supply of money in Greece is important for the country to stand on its feet. But there should be no reduction of its debt. We should support Greece with money and give it sufficient time to enable it to repay its debts", argued the German commissioner.
At the same time, he underlined that it is "good that the Grexit has left the table. It is understandable that some people were considering an exit of Greece from the eurozone. But we must respect the fact that the Greeks do not want the Grexit. With the planned bailout Greece proceeds on the road of reforms. In this way discussion of a Grexit should end. The country remains in the eurozone".
Oettinger stressed, however, that now the Greek government must proceed with reforms to make the country attractive to investors.
Asked if Germany has a problem with its image, as the Greek crisis has revived the image of the "bad German", the European commissioner said that "other countries, such as Portugal and Slovakia have adopted tougher positions against Athens".
"Only because of its size Germany contributes more to the loans to Greece and thus gaining more weight the German point of view. But chancellor Angela Merkel and finance minister Wolfgang Schäuble are not the bad Germans. The the Greek prime minister Alexis Tsipras were given tough, but fair conditions for further assistance", explained Oettinger.