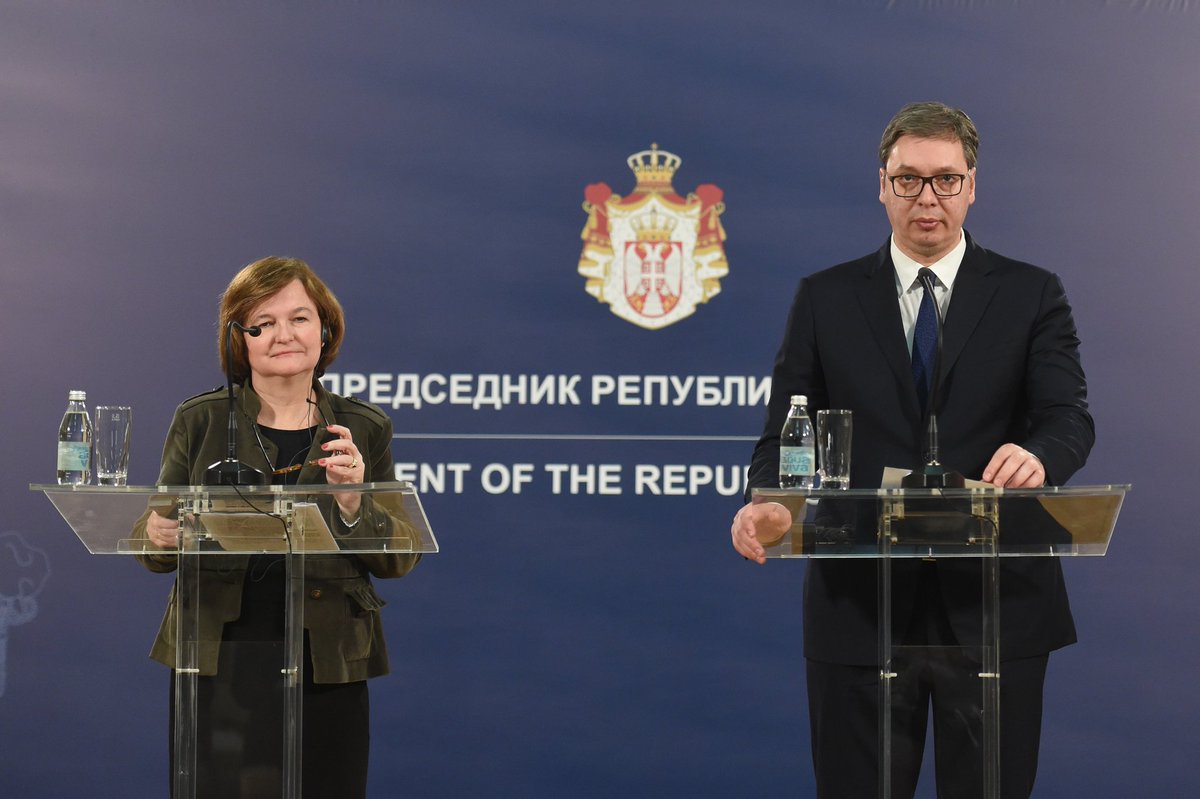 Za Srbiju je stav Francuske da situacija u Evropskoj uniji ne obećava njeno skoro proširenje cenjen zbog iskrenosti, dok je poruka Berlina da Nemačka ostaje snažan saveznik Prištine – razočarenje. Tako je makar iz ugla izjava predsednika Aleksandra Vučića.
Natali Loazo, francuska ministarka za evropske poslove, izjavila je uoči svoje jučerašnje posete Beogradu "da sadašnje stanje EU ne omogućava nova pridruživanja u zadovoljavajućim uslovima".
Upitana o toj izjavi koju je dala listu Politika, Loazo je na konferenciji za novinare sa Vučićem rekla da "Francuska želi da Srbija uspe u svom poduhvatu pristupanja EU, ali i da Francuska govori jezikom prijatelja i iskreno". "Ova naša iskrenost nas prisiljava da kažemo to u trenutku kada sada EU proživljava izlazak Velike Britanije, navela je Loazo.
Ona je dodala da je EU suočena sa izazovima s kojima mora da se ponese. "Dok mi sređujemo našu kuću, razgovori Srbije i EU se nastavljaju, mnogo toga je postignuto, mnogo toga se dešava… Moramo da sagledamo stanje naših zajedničkih ambicija i puta koji moramo da prođemo da bi stigli do zajedničkog cilja", navela je Loazo.
Vučić je zahvalio ministarki za, kako je rekao, iskrenost, i dodao da je to "sve ono što je i Srbija znala".
Francuska "bez ikakve dvojbe" podržava evropski put Srbije, navela je Loazo. Kako prenose agencije, ona je istakla da Srbija treba da sprovede reforme.
Pozdravila je, kako je ocenila, ozbiljne reforme u ekonomiji. "Cenimo reforme koje je Aleksandar Vučić sproveo, da bi doprineo stabilnosti zapadnog Balkana", navela je francuska ministarka.
Komentarišući dijalog Beograda i Prištine, Loazo je rekla da će Francuska uvek podržavati put zajedničkog rešenja, prihvatljivog za obe strane. Francuska se, prema njenim rečima, zalaže za to da Priština ukine takse, jer je to, kako je navela, kontraproduktivno i šteti normalizaciji odnosa.
Izjava šefa nemačke diplomatije Hajka Masa da će nastaviti da podržava Prištinu bez obzira na takse za mene je veliko razočarenje, rekao je Vučić na konferenciji za novinare sa Loazo.
On je najavio da će sa Vladom Srbije narednih dana razmotriti i "ovu i sve ostale poruke koje je Srbija dobila u poslednje vreme". Vučić kaže da je tom Masovom izjavom "iznenađen iz više uglova", te posebno istakao da "Nemačka ne bi smela da podržava zabranu slobodnog protoka robe, usluga i ljudi".
On je istakao da je Priština uvođenjem taksi na srpsku robu odmrzla takozvani zamrznuti konflikt, zbog kojeg se "plaši svega što može da se dogodi u budućnosti".