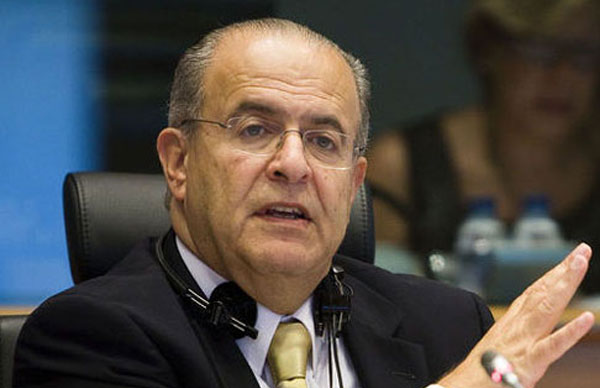 By Christos Meliopoulos – Nicosia
"If you ask me, the negotiations have already started," declared Cypriot Foreign Minister Kasoulides on live TV referring to the initial stages of the new attempt to solve the 39-year old Cyprus problem.
Mr Kasoulides was more particularly talking about the efforts to overcome the difficulty in reaching an agreement over a joint communiqué by the two sides, Greek Cypriots and Turkish Cypriots, that will set down clearly the end goal of the talks and the framework of the negotiations; namely the creation of a federal state with a single sovereignty, a single international personality and a single citizenship, as stated in the relevant United Nations resolutions.
The Cypriot government has made clear in all tones that such a communiqué is a prerequisite for a meeting in person between the leaders of the two communities, President of the Republic Nicos Anastasiades and leader of the so-called 'Turkish Republic of Northern Cyprus', the illegal breakaway entity recognised solely by Turkey.
In recent days Turkish and Turkish Cypriot officials have attempted to throw the Cypriot government off course by inaccurately claiming a date has been set for the two leaders' meeting.
It could be said that the signs are not positive for the outlook of this new round of talks, since apparently the interlocutors cannot even reach common ground on the basis of the negotiations. But Mr Kasoulides, in his usual calm and reassuring manner, also risked a prediction, that an agreement on the joint declaration will be reached and that all the details will then start being discussed.
The Foreign Minister was not talking without any ground to justify his optimism. Nicosia has cautiously noted some encouraging signs on the side of the real interlocutor, Turkey.
First of all there seems to be mutual acceptance of the necessity for the Cypriot negotiator to meet with Turkish officials, in a first such direct discussion on the issue separating the two countries. On that President Anastasiades realises a policy pledge he made while campaigning, even though not all politicians and public are in favour. At the same time of course the respective Turkish Cypriot negotiator will meet Athens officials, even though Greece is not part of the problem.
Foreign Ministry officials also detect a change in rhetoric from Ankara, even if they are still cautious about its tactics. As Mr Kasoulides himself has remarked, the frequently vocal -and provocative- Egemen Bagis, Turkish minister for Europe, has observed a most uncharacteristic silence lately.
Diplomats have also attributed some significance to the exchange of compliments and handshakes between the Cypriot and the Turkish delegation members at the recent United Nations general assembly. It is noteworthy that the Cypriot delegation, headed by President Anastasiades himself remained in the hall to listen to Turkish President Gul's address – even if the Turkish delegation did not return the gesture. "The first signs are there," concluded Mr Kasoulides.