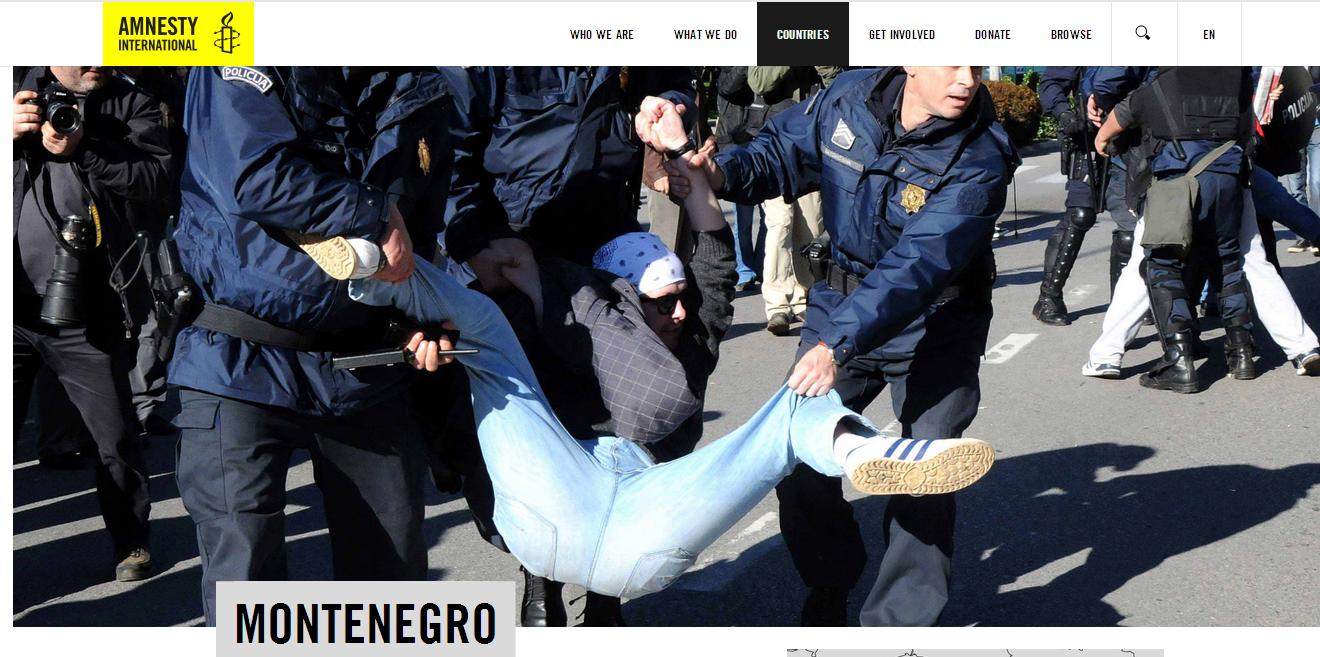 Podgorica, February 26, 2015/ Independent Balkan News Agency
By Adnan Prekic
In its latest report on the situation of human rights in the world, Amnesty International in the part related to Montenegro alleges that the rulings made by national courts in war crime cases are still inconsistent in relation to what the international practice and legislation is doing on this field. The report also mentions the freedom of the media. It is noted that independent journalists remain targets of threats and attacks. The report also states torture, saying that police officers that are suspected of torture have remained unpunished.
Amnesty International again this year draws attention to restricting media freedom, especially threats to the media and journalists. Following the establishment in 2013 a Commission to monitor police investigations into attacks and threats against journalists and independent media, investigations have reopened in 2004 regarding the murder of Duško Jovanović, editor of the newspaper "Dan". Suspects in the 2007 attack on journalist Tufik Softic were arrested in July for attempted murder, while investigations continued into a series of attacks on the daily newspaper "Vijesti". Arrests were made in the case of "Dan" journalist Lidija Nikčević, who was attacked by masked men outside her office in Niksić in January.
In the part of report which relates to process in cases of war crimes, are generally repeated remarks made in previous years. In June, both the Committee against Torture and the UN Working Group on Enforced Disappearances found that the courts had failed to fully apply domestic law and had misinterpreted international humanitarian law in decisions in cases prosecuted since 2008.
In December 31, 2013, a former Yugoslav Army commander and seven reservists were acquitted for the murder of 18 refugees from Kosovo in the village of Kaludjerski Laz near Rozaje. In February, the Appellate Court upheld the conviction of four former Yugoslav Army reservists for the torture and other ill-treatment of around 250 Croatian Prisoners of War at Morinj detention camp. They were sentenced to periods of imprisonment that were less than the statutory minimum and failed to reflect the gravity of their crimes. In March, seven former prisoners held at Morinj camp were each awarded compensation of between EUR 20,000 and EUR 30,000 for their ill-treatment. In March, former police officials acquitted of war crimes in 2013 opened a case for compensation against Montenegro for EUR 1 million, on the grounds that they were unlawfully detained and deprived of their liberty.
Discrimination against LGBT people, including threats and physical attacks, also continued. Perpetrators were rarely identified, and where prosecutions had took place attacks were generally classified as misdemeanors.
Legislative provisions were introduced in 2013 that allow for the hate motive to be considered in sentencing were not applied. The LGBT social centre in Podgorica was attacked 26 times during 2014, and despite being provided with police protection the authorities failed to conduct effective investigations and bring perpetrators to justice. The Podgorica Pride, held in November, was adequately protected by police. with 10 counter-protestors being placed under arrested.