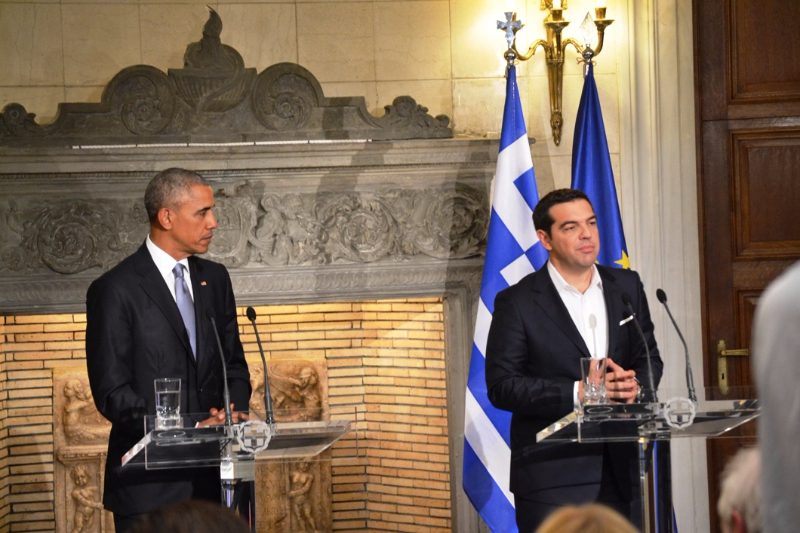 US President Barack Obama arrived in the Greek capital for a two-day visit on Tuesday in what the Greek government saw as an opportunity to gain his public support on a range of issues, including Athens' key demand for crucial debt relief.
In a visit with much symbolism, the Greek authorities were on high alert in the Greek capital as concern was evident about the prospect of a terrorist attack.
Local news reports praised the fact that Obama said the United States would stand "shoulder to shoulder" with Greece through its challenges ahead. The big issues Athens is striving for support in include addressing Greek debt, the Cyprus issue and the refugee crisis.
In a meeting with the President of the Hellenic Republic, Prokopis Pavlopoulos, Obama praised Greece for what he called the country's "humanitarian and compassionate manner" in dealing with the unprecedented refugee crisis.
He also expressed satisfaction over his visit to Greece and mentioned the significance of visiting the land where democracy and ideas that inspired the creation of the United States began.
In statements he made after meeting with Greek Prime Minister Alexis Tsipras, the outgoing US President said austerity alone cannot deliver prosperity to the Greek people and that debt relief and other strategies will be needed.
The US President also stressed that reforms undertaken by the Greek government were difficult but necessary, and will make the Greek economy more competitive in the long-term.
Obama noted that the U.S. had also taken measures that stabilized its economy and learned from its mistakes, noting that one of these lessons was the importance of fiscal stewardship with growth policy.
"The main lesson we learned was that especially when the economy is trying to recover, to create jobs and stimulate economic activity – this is the factor that reduces structural deficits and debts."
On the Cyprus issue, Obama reiterated the U.S. government's willingness to support efforts for a solution. "This is ultimately a negotiation between Cypriots, Greek and Turkish Cypriots," he said, adding that the good news was that the two leaders were sincerely dedicated to the effort to find a solution for the benefit of the two peoples.
If the two sides succeeded in finding a mechanism for a transitional state acceptable to both of them, the US will do everything in its power to support this, Obama stressed.
On his part, Alexis Tsipras said "we'll continue to promote reforms that promote growth" adding, however, that after seven years "we cannot tolerate more austerity".
Debt relief, lower primary budget surplus targets after 2018 and inclusion in the European Central Bank's quantitative easing program is deserved by the country Tsipras added, while expressing his "optimism" that Germany can be persuaded to agree to debt relief for Greece./IBNA