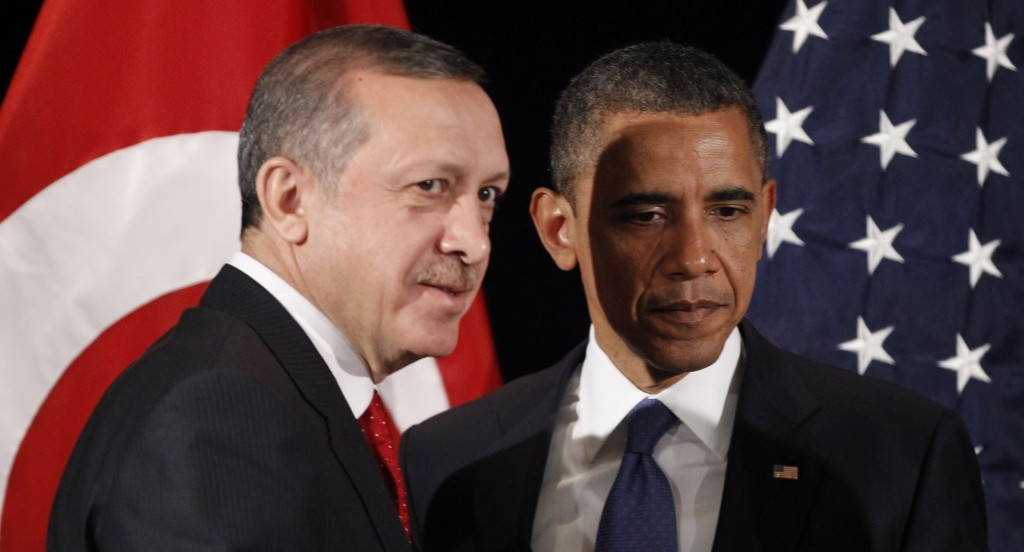 Ankara, April 4, 2016/Independent Balkan News Agency
By Manolis Kostidis
After many consultations Recep Tayyip Erdogan met with President Barack Obama on the sidelines of the summit on Nuclear Safety, after the dinner of the leaders, as until the last minute the US president did not give an appointment to his Turkish counterpart.
However, the Turkish side is concerned since yesterday Obama and Joe Biden on Wednesday made it clear to the Turkish president that he considers the Kurds of northern Syria (PYD) and the their armed organisation YPG as allies. Turkey considers the YPG as a terrorist organization and says it is an offshoot of the PKK, which both Turkey and the US emphasize that it is a terrorist organization.
According to the Turkish presidency, the Obama-Erdogan meeting lasted 50 minutes. Washington stresses that US President raised human rights issues in Turkey as the issue of press freedom.
In parallel, the two men discussed issues such as fighting the Islamic state, with Obama reaffirming the US support for the security of Turkey, and cooperation against terrorism.
Erdogan's responce to Obama on Washington's position on the Kurds of northern Syria and the YPG has not been made clear though.
However, the Turkish Foreign Minister Mevlut Cavusoglu has said that "Turkey and the US will not spoil their relations because of their different positions on the PYD (political wing of the Kurds) and YPG (armed organization of the Kurds). Some political analysts of Turkey estimate that perhaps this statement shows that Turkey may "tolerate" the presence of an autonomous region in northern Syria.
Officials in the US recall that Ankara had made similar complaints in the past on northern Iraq and the Kurds in the region. Although in this region even today remain the headquarters of the PKK, Ankara has good relations with Arbil and is the main trading partner of the Kurds of Iraq.