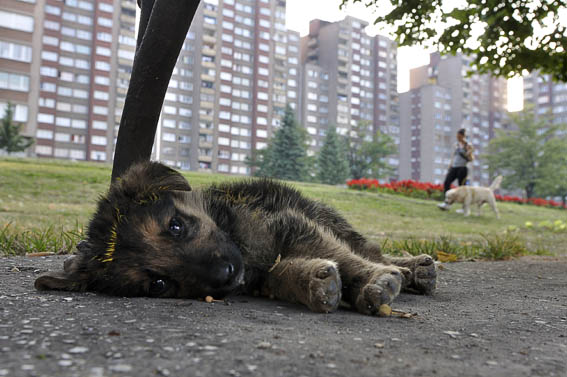 By Maja Tuljković – Sarajevo
The research conducted by Dogs Trust BH shows that in the area of Sarajevo about 13.000 households own at least one dog. The study was conducted during the summer, and they included in the study the local communities in four city municipalities. From 13.000 households mentioned above, about 8 percent own more than one dog. According to the survey, only 17 percent of households participated in the survey got their dogs sterilized. This fact confirms the need for full implementation of the Law on the protection and welfare of animals.
This is also an indication that the irresponsible dog owners are the source of the problem with the abandoned dogs in Bosnia and Herzegovina. B&H citizens are divided in two groups in regard to the solution for this problem. One part of the citizens agrees to adopt legislation on euthanization of abandoned dogs if the owner does not respond within 15 days, and the other group oppose this solution. They believe that killing dogs is not humane or civilized, and because of that the EU would punish B&H.
Dog Trust B&H believes that Bosnia needs first of all to register the dogs and then to sterilize them, but also to punish the irresponsible owners. There are more and more of those who let their dogs mate with abandoned dogs and after the birth, due to the inability to sustain them, they leave the new born dogs on the streets.
B&H has a good law on the protection and welfare of animals. The law requires that the dogs should not be caught and killed, but they must be placed in shelters for dogs. However, for already 5 years this law has not been implemented.
So far, only Dogs Trust B&H has conducted a series of actions of the free sterilization of dogs. In Sarajevo in June about 3.000 dogs were sterilized. With this action the birth of 33.000 new unwanted dogs was prevented.
Also, a survey conducted in early October showed that the number of stray dogs in the city of Sarajevo is stagnating. The study included 100 locations in four municipalities of the city.
Each location was 200mx200m in diameter. Eight teams of volunteers from the Veterinary Faculty in Sarajevo, together with members of the Dogs Trust team took part in the study.
761 dogs in 100 locations were identified. Of this number, 32 percent of dogs were sterilized.
They hope that these figures will make the local authorities in Sarajevo awere of the necessity of the Law on the protection and welfare of animals to be implemented.
Every day the media shows cases of dog attacks on other animals, cars, and on people. Until the authorities in Bosnia and Herzegovina do not start with the implementation of this law or to build shelters for dogs in Sarajevo, citizens will continue to meet with abandoned dogs on the streets and on neighborhoods of Sarajevo.