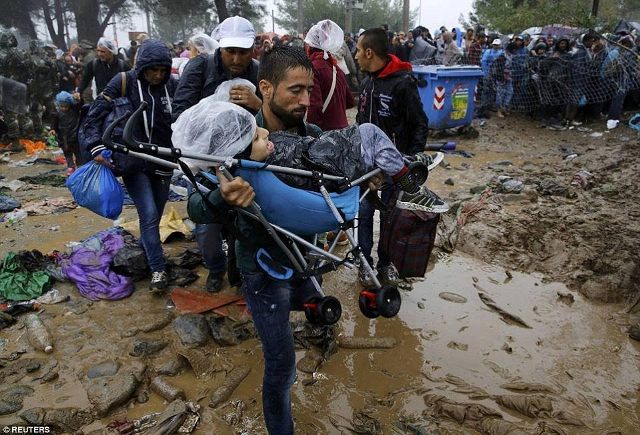 Skopje, 11 September 2015/Independent Balkan News Agency
By Naser Pajaziti
Number of refugees entering the Macedonian border has grown in the recent hours. Yesterday, over 7 thousand refugees entered the country through the Greek border.
A tense situation has ruled in the southern border area, as police had placed restrictions and only allowed women and children to enter.
This situation led to the reaction of massive crowds who were standing under the rain. At a certain moment, police was seen hitting refugees in order for them to stand in line and not allowing them to enter the territory of the country.
According to the center for temporary accommodation, around 6 thousand refugees were transported yesterday toward the northern border with Serbia.
"After identifying them, mainly women and children and also people who were ill, were boarded on trains and other means of transport toward the border with Serbia. Over 2 thousand of them have traveled on trains from Gevgelija to Kumanovo, while the other part with buses and taxis", said the center for temporary accommodation of refugees.
Meanwhile, the serious situation continues to rule in the southern border area, as thousands of refugees are expected to enter there under the rain and risked by different epidemics and the cold. Macedonian authorities have not set up any tents or accommodation center in the border area, but refugees continue to wait under open sky.
While refugees continue to arrive, Macedonian Railway workers have started a strike as of yesterday, but due to the difficult humanitarian situation with the refugees, four trains have been made available for the transport of refugees.
Government authorities in Skopje are worried on the increase of the number of refugees.
Foreign Minister, Nikola Popovski warned the possibility of raising a fence like the Hungarian one, to prevent the large numbers of refugees.
"We're obliged to send the army or raise a fence to prevent the large number of refugees, as we are unable to cope with the situation", minister Popovski said, appealing for the European Union to help. /ibna/