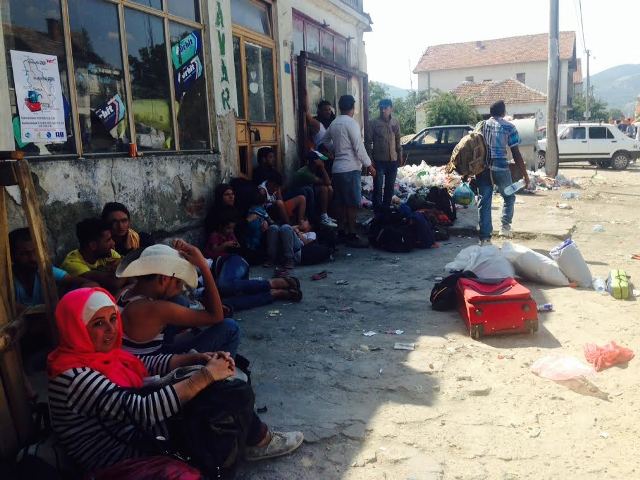 Kumanovo, 27 August 2015/Independent Balkan News Agency
By Naser Pajaziti
The region in the border between FYROM and Serbia continues to be swarmed by refugees from the Middle East. In the past three days, over three thousand refugees have travelled by train from Gevgelia, in the border with Greece to Tabanoc, on the border with Serbia.
Large numbers of police forces are also present in the border area in the north. A large part of refugees are also following other routes to reach Serbia. They hire vans and cabs to reach the border with Serbia.
The area near the railway station in Tabanoc is filled with refugees, but also with wastes which can pose an epidemic threat.
UNHCR activists fear that the number of refugees will go up in the days to come.
"There are many refugees. We're 24 hours on the ground and based on our calculations, over three thousand refugees are entering Serbia through Macedonia on a daily basis. Our teams are transporting sick refugees and children from the border in Tabanoc to Presevo. In the next few days, we're expecting to have a large number of refugees", says a UNHCR activist.
This organization offers food for refugees, mainly for women and children, while the rest of refugees secure food on their own.
Fyas Aljabi, a student from Damascus, Syria, told IBNA that he has spent 8 days travelling from Syria and he finally arrived in Tabanoc.
"We have encountered many difficulties here, but it was worse in Greece. In Macedonia we've been treated well, although last week, our relatives were not treated that well. After all that we've been through, I hope that we will survive. I'm thinking of going to Switzerland, because I have some acquaintances there", Aljabi said.
Moufak K, a 60 year old mechanic from Mosul, in Iraq, along with 10 family members, have traveled many days to reach this destination.
"We left Mosul, because ISIS came there. They took all of our belongings and they threatened that they would kill us. Children have seen many horrors and suffering. We're not sure if we will reach our destination. So far, we have spent over 30 thousand euros", says Moufak.
A part of the refugees have health problems and wounds on the body.
Ahmed Mahmoud, a 50 year old from Syria, says that he was wounded while he was fleeing along with his family.  He says that he had many health problems during the way.
"I can no longer endure this suffering. I was split from my family, because they couldn't get on the train. I cannot continue my journey without joining my family. UNHCR teams are helping me to locate them", Ahmed says.
Refugees do not enter Kumanovo and no movements of refugees are noticed in the town, because refugees go to the border region, 10 km from the town. Many humanitarian organizations are helping the refugees. /ibna/