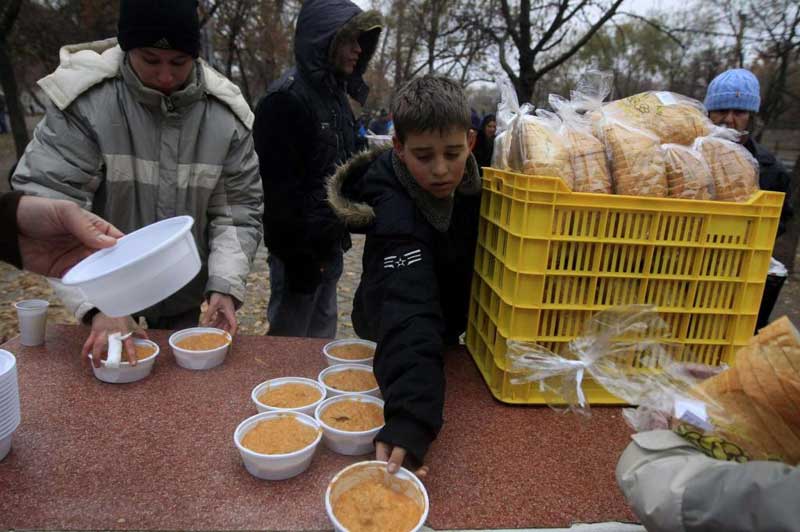 By Marija Avramovic – Zagreb
Children in Croatia are among the most affected by the current economic crisis that has impoverished an additional 2.6 million children in developing countries since 2008, UNICEF announced yesterday.
UN's agency for the protection of children rights published a report on the impact of the economic crisis on children in the developed countries of the EU and the Organization for Economic Cooperation and Development (OECD).
In the 41 countries that were analysed live a total of 76.6 million poor children, an entire population of Turkey, warns UNICEF and criticise the governments, which because of the crisis have implemented budget cuts that have particularly affected children.
Poverty increased in 23 countries, mostly in Ireland, Greece, Latvia, Croatia and Iceland.
Croatia is ranked at 38th place, since the number of poor children in comparison to 2008 increased by 11.8%.
The largest increase was recorded in Ireland, 20.4% while the increase of poor children is also registered in the United States (2.6%) and the UK (1.6%), according to UNICEF data.
Croatia holds the record in negative impact of the crisis on young people aged 15 to 24 years.
With 8.5% of those who do not continue their education or are unemployed, Croatia is at the 39th place on a scale of 41 observed countries.
"In the absence of a complete response, it could have negative long-term consequences for whole societies", UNICEF concluded and warned about a potential slowdown in population growth, since young people are not motivated to start a family because of the economic conditions.
The Ombudsman for Children Ivana Milas Klaric said that she wasn't surprised by UNICEF's report which implied that children in Croatia were among the most affected by the current economic crisis, because she personally had warned the government about the negative consequences of the economic crisis towards youngsters.
"In a time of economic crisis, among other things, the risk of abuse and neglect of children in the family and from various forms of violations of their rights in society increases. These risks are even bigger for children with disabilities, sick children, children with behavioral problems and other vulnerable groups", she noted.
She recalled that the UN Committee on the Rights of Children, which in September considered the Government's report on the rights of children in Croatia, reiterated the recommendation to adopt the so-called "children's budget", which wouldn't be reduced when budgetary resources were restricted.
"This budget should certainly be protected from cost cutting in times of crisis and natural disasters",  Ombudsman stressed and urged the government to take measures to mitigate the risks and consequences of child poverty.