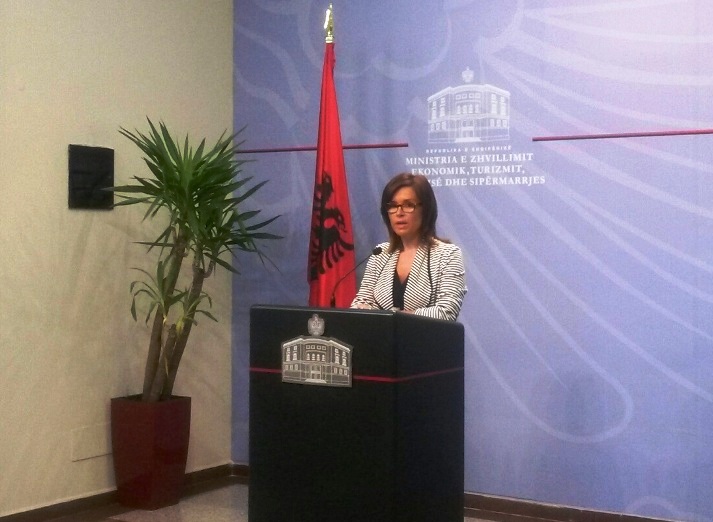 Tirana, 21 August 2015/Independent Balkan News Agency
In the past few days, a large number of people have appeared in the offices of the National Registration Center in Tirana in order to register their business.
This growing number is being considered by the director of the National Registration Center, Vasilika Vjero, as a response of the Albanian people to the appeal sent out by the prime minister to legalize their businesses during August, as a thorough inspection is expected to take place in September.
"I am happy about the significant number of new registrations following the warning given by the Albanian government for a wide scale operation against informality in September", Mrs. Vjero said today in a news conference.
Vjero appealed for formalization through the registration of all of those who have not yet done this.
"Businesses can be formalized by registering at QKR, where the personnel is working long hours. They are also registering electronically through the government portal e-Albania", Vjero said.
Vjero said that the formalization of businesses through the registration and issuing of the tax receipt for every product that is sold to customers, means that there can be more incomes for public investments; real opportunities for increase of salaries and a new opportunity for tax cuts.
In total, 169,528 businesses are actively registered at QKR. This means that they have a permanent activity.
During 2014, 16,731 new businesses have been registered or 40% more than in 2013.
Out of the total number, 85% are small enterprises which have offered self employment more than real employment.
2014 has also seen a growth of 29% of the presence of foreign companies compared to 2013.
12,897 new businesses have been registered during the period January-20 August 2015, and this takes the number of registered businesses as opposed to 2013 to 30 thousand.
For the head of QKR, "the most encouraging novelty this year is that during the months of July and August 2015, there has been a large number of registrations: 3,982 or two times more than the same period in 2014".
"This means that besides new businesses, we are also seeing the first signs of coming out of the grey area of informality of businesses, which have not registered for more than a year", Vjero said.
Vjero also warned that the wide scale operation against informality could have a cost for businesses in financial and legal terms, if they think that they can earn more if they do not comply with the law. /ibna/