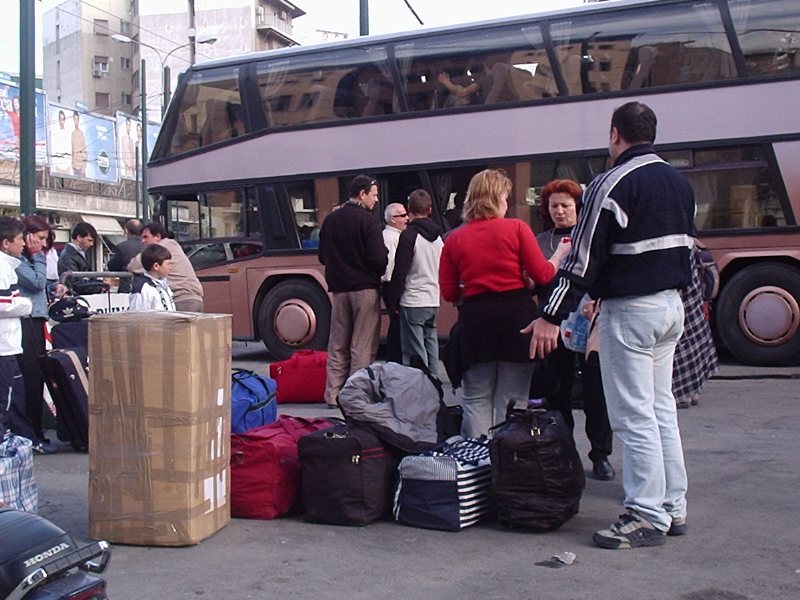 IBNA Special Report
Tirana, October 8, 2014/ Independent Balkan News Agency
Albanian emigrants in the world are more and more setting their eyes toward their country. In the five years alone, the number of emigrants who have returned is 133544, reports a special study published yesterday by the Albanian Institute of Statistics.
The study on migration and reintegration says that 70.8% of the emigrants have returned from Greece while 23.7% of them have returned from Italy.
An important factor is that returns have been massive when the economic crisis emerged in 2011.
Head of INSTAT, Gjergj Filipi says that the average age of the emigrants who have returned is 38.6 years old, whereby 40% of them say that they have returned in Albania for good.
He says that the country has had massive numbers of nationals leaving the country in the past and a growing number of returns happening during this period.
"The 2011 census not only identified a large scale migration, but also massive returns. Our latest study shows that 134 thousand emigrants have returned to Albania from 2009 until 2013", said Filipi.
Are repatriates being integrated?
According to the study, the number of people who have returned is 133.544. The number of returns has increased by 1,5 times after 2011.Among those who have returned, it's men who dominate as opposed to women, namely 73,7% and 26,3%.
In 94% of the cases, returns have been voluntary. Those who returned have mainly returned from Greece (70,8%) and Italy (23,7).
Over 60% of those who have returned have been accommodated in the same place of residence as before they migrated. The rest has been accommodated in the main urban areas of Albania, such as Tirana, Durres or Vlora.
The main motives for these returns have been economically related. Around 42% of emigrants have returned along with their families and 35% of them have minor children up to the age of six.
The majority of those who have returned believe that the experience gained abroad is an advantage for their return.
Around 40% of them believe that they will stay in Albania for good, while one third see their return to Albania as temporary and want to migrate again.
Emigrants who have returned have spent an average of 6,2 years in emigration. Out of these, emigrants from Greece had a longer stay, 7 years, whereas emigrants from Italy an average stay of 4,3 years.
Around 59% of emigrants were unemployed before they emigrated and this figure fell to 27% during the time that they spent in emigration.
The majority part of emigrants has chosen agriculture as the only form of self employment, but the opening of small businesses also occupies an important part.
Almost half of emigrants had a high school education before they emigrated.
Around 5,1% of the emigrants who have returned, have completed university or post university studies in the country where they emigrated. In the majority of cases, the people who left the country were in a bad financial situation prior to their departure. Their financial situation has significantly improved in emigration. Around 41% say that after their return, their financial situation has not changed, 39% of them have declared that their financial situation has deteriorated compared to the period that they spent emigrating while 20% claim that their situation has improved.
Around 64,5% of emigrants who have returned say that during the last year of their stay abroad, remittances to their relatives in Albania have been rare. The most frequent amount of these remittances in the last year varied from 200 to 500 Euros.
Amid these figures, what's more worrying is that around 92% of repatriates have not made investments after their return to Albania. The lack of funds remains a problem. Over 81% of them who have not invested say that they do not have sufficient capital to open a business.
Emigrants and investors
Nevertheless, there are emigrants who live in between Albania and abroad. Many of them are found in the south of Albania. They are mainly residents of areas such as Saranda, Himara, but also Vlora and their vicinities.
Dhimitri is a 52 year old man, who was young when he left for Greece. He has opened a fast-food outlet in Drimadha and he tells a part of his story to IBNA.
"I left when I was single, I married and now my children are at an age when they can marry. I was 31 years of age when I left Saranda and like many others, I went to Greece. At the beginning, in the area around the border and then, where there was money and work, in Athens. I have done different jobs. I have been working for several years in restaurants. I used to come every year in Albania in order to spend holidays with my wife on the beach. We used to stay three or four months, because there wasn't a lot of work in Athens during the summer. While we see that there are still many things missing in Albania, we saw that the south didn't have many fast food outlets, therefore we decided to work here during the summer. This is why we opened the fast food that you see. It's nothing luxurious, but food is necessary for tourists and if it's fresh and well cooked, they come back. We have a lot of work from June to September. This year, September was disappointing, because there was rain. Next year, we hope that it will be better", says the emigrant who has opened this business.
Dhimitri has bought a house in Athens, while here in Albania, he's looking for a house which has a shop and a parking space, in order to do business. He says that many are acting this way, securing revenues every time of the year.
Emigrants who are afraid to come back
Erald, a 31 year old from Tirana has been living for 12 years in Venice, Italy. He works along with several other Albanians by managing a bar near "San Marco", an area largely populated by tourists.
Erald says that he arrived in Italy as a student, but abandoned his studies and like his friends, they decided to work. In the past few years they rented a bar.
"We work and live in Venice. I and several other friends are single and we want to be like this for another few years. One of us is married and is expecting a child", says the 31 year old, while he has to leave for a few moments to take the order of a group of girls who just sat on a table outside the bar.
"We work 6 or 7 months and then the intensity of work starts to drop. This is why we don't work at least 4 months a year", adds he.
When asked if he uses this period to visit Albania, he replies: "No, I can go to Albania for a few days. We mainly visit countries where there is tourism. It's been three years that during the winter, we go to Thailand and stay there for three months. We go together, but this year we won't have our friend who is expecting a child", says he, clearly manifesting his excitement about the journey that he's expecting to embark on in the next few days. /ibna/