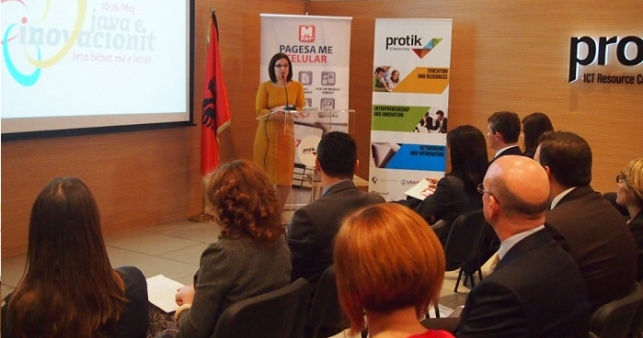 Minister for Innovation and Public Administration, Mrs. Milena Harito presents one of the most important projects in the framework of "Innovation of Payments of Public Services". This new service offers the possibility to make the payment of electricity bills through mobile phones
Tirana, May 15, 2014/Independent Balkan News Agency
At the end of the month, those few points where the electricity bills in cities and villages are paid, experience long queues of customers. They wait there for several hours to pay their electricity bills.
This situation is absurd in circumstances of a digital area. Therefore, the government is promoting public services and the payment of service bills through mobile phone applications.
Minister for Innovation and Public Administration, Mrs. Milena Harito presents one of the most important projects in the framework of "Innovation of Payments of Public Services". This new service offers the possibility to make the payment of electricity bills through mobile phones.
Harito explains the process of this new form of the payment of the electricity bill, stressing the novelties and benefits that it brings for the citizens. She also considers this new form of payment as a simple, quick and easily accessible form by everyone throughout the country.
To use this service, citizens will not need internet connection. The activation of this service can be carried out by every type and model of mobile phone.
"Today we have a new transparent service which prevents all kind of abuse and corruption. Our scope is to reduce abuses that Albanian citizens have faced in the recent years and on the other hand, to increase incomes, because we all know that a significant number of citizens still do not pay their electricity bulls", says Harito.
The  minister also talks about other incentives which are still in the process of integration. "Among other things that we will be able to pay through the mobile phone are also traffic fines", says she. The minister has invited all mobile phone operators and financial institutions to join this incentive, in order for the citizens to be able to benefit safe, transparent and comfortable services. /ibna/