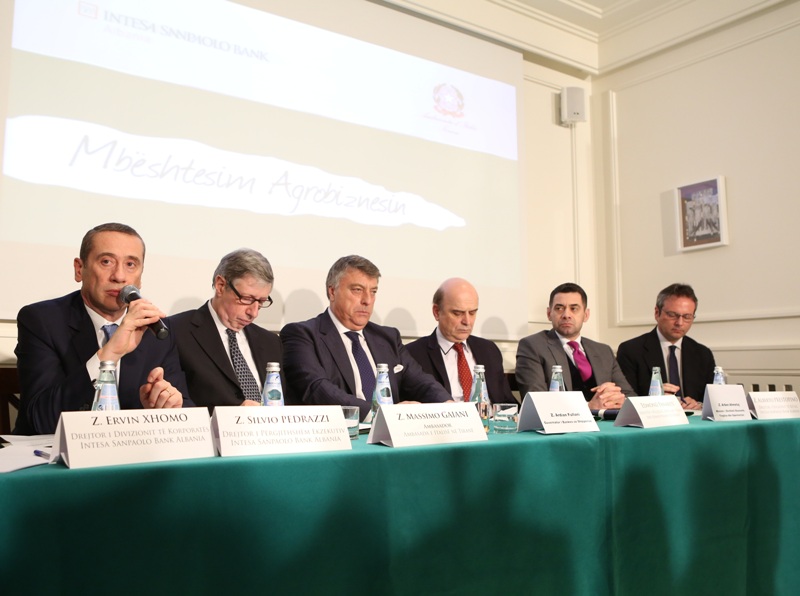 For the first time, financial support is being offered to farmers in Albania. Authorities say that agribusiness represents one of the most important sectors, where Albania may want to strengthen its economic growth and employment. We'll read insights from the Minister of Agriculture, Edmond Panariti, ambassador of Italy, Massimo Gaiani, General Director of Intesa Sanpaolo Bank Albania, Silvio Pedrazzi
Tirana, February 20, 2014/Independent Balkan News Agency
In Albania, banks offer a variety of loans for home purchases, consumer loans and loans for big businesses. But, loans for farmers have been almost nonexistent. As a result of this, agribusiness is not organized and is suffering miserable conditions of production.
Technology is still a "phobia" for farmers because they don't have sufficient incomes to make such investments.
A market study led to Italian investors in cooperation with the embassy of Italy in Albania to consider agribusiness sector as a very important potential for the country. Considering it as a powerful engine for the development of economy in Albania, Italian Embassy and Intesa Sanpaolo Bank Albania hosted yesterday (19.02) a press conference (photo) called "We support agribusiness", where the new strategy of crediting has been detailed.
Ambassador of Italy, Massimo Gaiani, minister of Agriculture, Edmond Panariti and minister of Economy, Arben Ahmetaj and the governor of the Bank of Albania, Ardian Fullani, talked about the advantages that the country offers with the new strategy of support for farmers.
Advanced services in the agribusiness sector
Silvio Pedrazi, general Executive Director of Intesa Sanpaolo Bank Albania said that starting from today (20.02), the bank will offer more advanced products and services in the agribusiness sector for small and medium sized businesses.
"Agribusiness represents one of the most important sectors, where Albania may want to strengthen its economic growth and employment. We welcome the new services that Intesa San Paolo Bank offers for small and medium sized businesses involved in the agribusiness sector. Small and medium sized businesses represent the main pillars of the Albanian business and we're sure that they will know how to benefit from these new ways in order to take advantage of the best possibilities for growth and development", said the Italian ambassador, Massimo Gaiani.
During this press conference, minister Panariti was asked by IBNA as to what will be the expected impact of crediting agribusiness in the Albanian economy:
"The impact is expected to be a very positive one. Crediting of agriculture will boost up agricultural production, the reduction of its cost, the growth of its presence in the market, it will link it to agriprocessing and at the same time, it will create more jobs. Thus, our expectation is expected to be positive. This will encourage Albanian producers not only to cover the needs of the country, but also to be present in regional markets. When I talk about regional markets, I mainly refer to the Kosovar market, which has been interested on fresh Albanian products and on new markets.
By intensifying the growth of the commercial production of our agricultural products with neighboring countries, we aspire to increase the weight of Albanian products in European markets. Lending is the most appropriate instrument in the domain of agriculture, it's encouraging and ambitious. For this reason, I'm very happy that this important financial institution has expressed its interest, because up until now, Albanian agriculture had been lacking attention as far as agrarian crediting is concerned", said Mr. Panariti in response to IBNA's question.
The general Director of Intesa Sanpaolo, Silvio Pedrazzi also answered to IBNA's question as to what will Albania gain from loans issued to agribusiness and what  is their expectation in Albania with this new product:
"Albania has the land, the climate, the desire to work. The market requires technology and quality, factors that Albania needs during its journey toward European Union. We hope that through the use of these funds, especially the funds that favor investments, will grow Albanian's agriculture sector in the quality aspect and it will expand the field of its activity. By increasing quality, it will also be present in European markets. Technology is important here. It must be put to use not only in production, but also during the harvest, warehousing and sale. Therefore, our funds, destined to promote these investments may and must involve all other actors who are involved in this process: employment, development and quality growth. We must also not forget that development and quality increase in all sectors of agriculture, is related to the development of the sector of tourism. This is another important sector which Albanian needs to further develop. As far as the impact that such incentive will have about the bank is concerned, our challenge is to occupy a share in the agricultural market, an important share which is characterized by a lawful and fair profit and I'd like to reiterate it, fair for the bank itself. This incentive will enable the bank to further invest in this sector", said Mr. Pedrazzi in response to IBNA's question. /ibna/