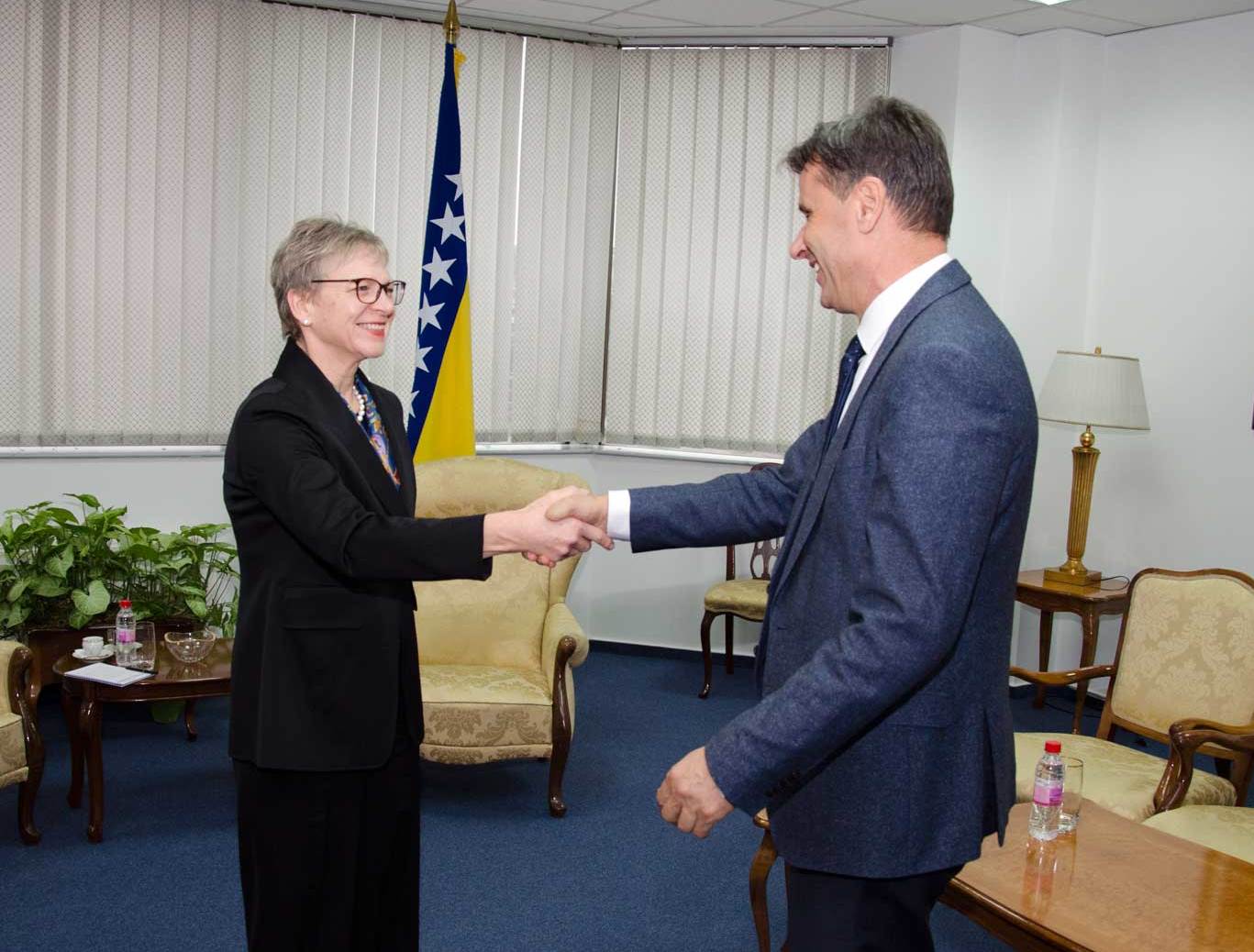 The Federation of Bosnia and Herzegovina (F BiH) PM, Fadil Novalić, held a meeting with the director of the European Bank for Reconstruction and Development (EBRD) for Central and Southeast Europe, Charlotte Ruhe, at the F BiH Government building in Sarajevo on Tuesday.
The central topic of the discussion was the investment plans and priorities of the F BiH government in 2019, as well as the eventual EBRD financial support in their implementation. Also, participants discussed the implementation of the existing projects of EBRD in BiH.
As the priority, participants defined the continuation and dynamization of the construction of a large infrastructure project such as the highway Corridor Vc, which, when completed, would link Budapest with Ploče harbour in Croatia.
PM Novalić said that the European Bank for Reconstruction and Development is one of the most important, maybe even the number one, financial institution the Government of FBiH cooperates, especially in the field of infrastructure. EBRD, as he said, appears not only as a creditor, but also as a consultant in this field.
During the meeting, a kind of "inventory" was made on the previous projects, especially on Corridor Vc. Specifically, the preparations for the construction of the Mostar North – Mostar South bye pass, as well as the tunnel through Prenj, which, as Novalić emphasized, should be seen as a whole and built in the "package".
The EBRD and F BiH Government representatives also spoke about the privatization of the companies owned by the Federation of BiH, with the emphasis on the Mostar company "Aluminij" which is going through a very turbulent period in its business.
"We insisted on the privatization of companies owned by the Federation of BiH and now there are 41, instead of 52 at the beginning of the mandate of this government. When it comes to "Aluminij", the FBiH Government owns 44 percent of the company, the Croatian Government 11 percent, and the rest is in the hands of small shareholders. We are trying to find a strategic partner that would become the owner and restructure the company. We also financed the in-depth analysis of this company and results we expect to receive in next few days", Novalić said.
The South interconnection on the gas pipeline between Croatia and BiH was also on the agenda, whereby the EBRD achieved significant cooperation with the company "Plinacro". The status of the hydro power plant Vranduk, issues related to ecology and other issues were also discussed.
The meeting was attended by the Director of EBRD for the Western Balkans, Zsuzsanna Hargitai, Director of the Office for Bosnia and Herzegovina, Ian Brown, and EBRD Banking Infrastructure in BiH, Josip Polić./IBNA