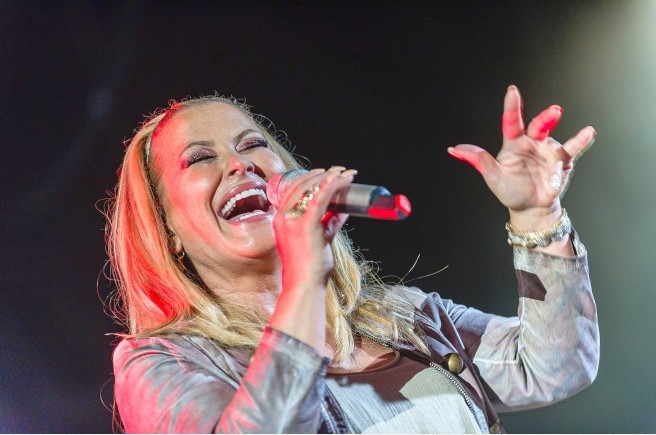 Tirana, 25 August 2015/Independent Balkan News Agency
One of the most notable singers of the millennium, Anastacia, performs for the first time today for the Albanian public. Anastacia, considered as one of the best voices in the world, will sing live in "Qemal Stafa" stadium.
Besides entertainment, this concert also supports a very humane incentive, such as the strength of the woman and the important role that she plays in the development of society. The singer, song writer and producer, Anastacia, is the powerful incarnation of this cause. She has fought against breast cancer for many years, showing her strength to move on in life and her career, without giving up for any moment.
Her album "Resurrection", conveys messages of hope, that encourage everyone to find personal strength and positivism.
With over 60 concerts all over the world, Anastacia also included Albania in her tour.
Anastacia arrived in Tirana on Monday evening. She says that besides music and choreographic performances prepared along with her staff, they have a number of surprises in store for the public.
Anastacia has successfully offered such surprises in several world cities, where she has been on tour.
Anastacia is known all over the world, not only for her vocal qualities, but also  for her special choreographic performances, given that she has lots of experience as a ballet dancer.
The American artist has been considered by the critics as the white singer with a black voice, due to the strong "black" features of her vocal. She achieved the peak of her musical career in 2000 with the album "Not that kind", while the song "I'm outta love" was the most sold record of the year.
Other hits followed, keeping Anastacia at the top of the world charts, even after she was diagnosed for the first time with cancer in 2002. She came back on the stage in 2004 and this time moving to the pop-rock style.
But, affected by the illness once again, after a 10 year saga of interventions and treatments which lead her to remove both breasts, in October 2013, Anastacia declared that she had finally defeated the illness.
Thanks to her open nature and by making her illness public, Anastacia turned into a symbol of the support for women and their fight against any form of prejudice.
Anastacia comes to Tirana following a number of successful concerts in Australia, Germany, Italy, Belgium, Holland, Austria, Spain, Portugal. Her tour is expected to end on 28 August with a return to Naples, Italy. /ibna/